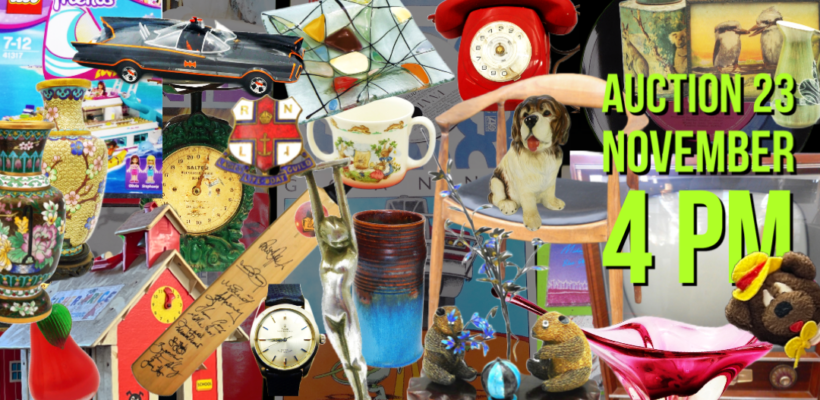 We have a huge range of collectables for this auction and there are more interesting lots to be added.
Highlights include a 1950s Tudor Rolex Oyster Prince watch which works, a stunning Chinese gilt silver filigree Panda bear figural group, 1964 Scanlen football cards, signed Cricket tour bats, 19thC Wedgwood porcelain figural group, Australian LP, 45 records, three pair Chinese cloisonne vases, framed antique Religious illumination with Psalm 51, Australiana, Bushells tea tins, bottles, Chinese pottery ginger jars, pieces of Australian pottery, 1970s teak bar and other mid century modern furniture, uranium, Murano, carnival and other art glass, rope machine, Planet lamp, Penny papers, truncheons, scales, clocks, Hot Wheels Batmobile, Lego, and in time for Christmas, collections of Cabbage Patch dolls, Smurf's, Fisher-Price toys, More Humphrey Bears than you can poke a stick at & Art includes works by S.T Gill, Tom Shield, John Haskins & Andrew Harris.
Past auction results can be seen here
Auction will start Thursday 4pm
Entries are welcome for this and upcoming auctions.
Good can be dropped off to our premises at 25 Melbourne Street, Murrumbeena, 3136 M T W F 10am – 6pm Thurs 10am – 3pm
Photos for appraisal can also be emailed to info@thecollector.com.au
Keep up to date with upcoming auctions by subscribing to our Newsletter or check out our Facebook page!