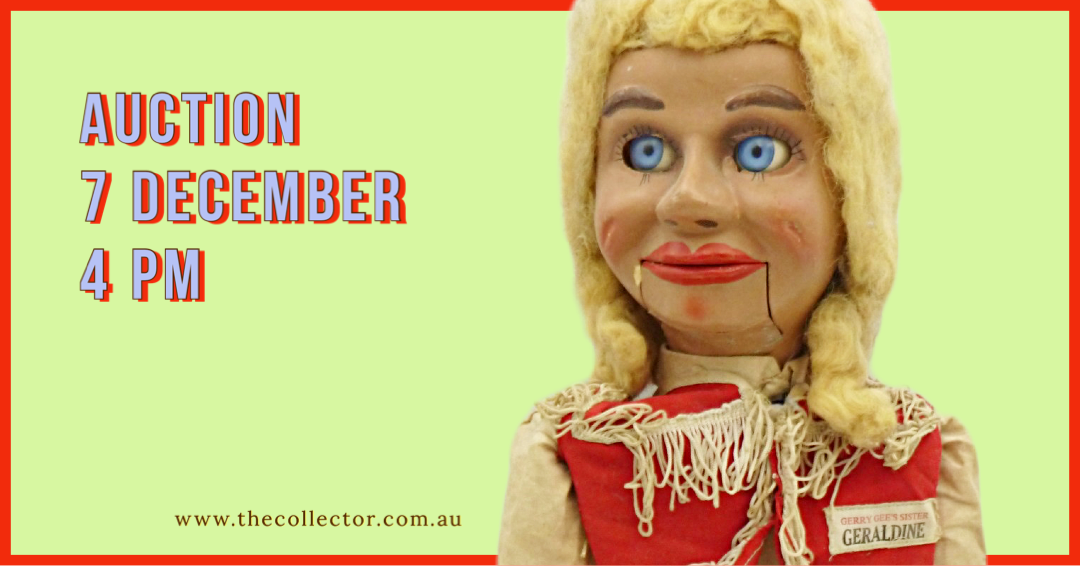 All bidding through the portal on our website.
Viewing hours
Wed  10 – 6pm
Thurs 10 – 4pm
Auction will start at 4 pm Thursday
Auction conditions of sale
Payment by credit card, eft or cash
Goods to be paid for prior to collection.
Late payment will incur a $10 fee.
24% buyer premium + GST + online  5% fee
1 % charge on Credit Card and Eftpos
Goods to be collected by 6pm Friday after the sale
We do not offer packing or shipping.
The Collector recommends the services of Pack & Send Caulfield.
Email: caulfield@packsend.com.au
The Collector does not accept liability for the acts or omissions of contracted third parties.
Please email us for further information – info@thecollector.com.au
| lot_no | Description |
| --- | --- |
| 1 | 1930s Chrome Plated Lamp w rearing horse & white panelled glass shade 42cm H |
| 2 | Vintage Ceramic Elephant Pedestal - Seat 43cm H |
| 3 | 3 x Agatha Christie Movie Posters, Evil Under the Sun, The Mirror Crack'd, Murder Most Foul (AF) |
| 4 | Vintage Mid Century Modern thin bent Metal Valet Stand - plastic caps to ends, 174cm H |
| 5 | Vintage 1970s Display Cabinet - Faux wood laminate, mirrored back w single shelf, drawers under & gold capped feet - 122cm L |
| 6 | Small lot - MCM Occ Furniture - Teak Coffee Table with inset Glass Top + Pair stylish shaped Dining Chairs w Blue vinyl Upholstery |
| 7 | Vintage Mid Century Modern Teak chair in the style of Hans J Wegner - needing some repair |
| 8 | Liz Sherburne (British, Active c 1960 - 1970s) 3 x Framed Watercolours - Landscape Scenes, The Country - all signed, 2 also dated 1969 & 1970, various sizes, all approx 50x70cm |
| 9 | 1950 - 60s Eames PSC Swivel Base Fibreglass Herman Miller chair - Light Ochre colour - small chip to return on back of chair |
| 10 | Set of 6 x Framed Alexander Francis Lydon Hand Coloured 19th C Lithographs - Colourful Parrots incl Masked Parrakeet, Jardines Parrot, Sun Parrakeet, etc - all in matching gilt frames, 2 x signed in image & all titled lower - 21x14cm Each |
| 11 | Vintage c1930s Filing Cabinet - 4 x banks of 3 Oak Drawers in Painted Wooden Cabinet, 115cm H |
| 12 | Vintage c1900 E Ingraham Cottage clock - Dahlia model, carved surround, gilt decoration to glass panel55cm H |
| 13 | Vintage 2 Piece Ebonised Grandfather Clock - decorative face reads K Plaile, Wein - with all weights, pendulum & Key - af |
| 14 | Lot of Vintage Vinyl LP RnB Records & Magazine Rack incl Issac Hayes, Cant Stop Twistin, Dionne Warwick, The Stylistics, Diana Ross etc |
| 15 | Vintage Holbein Adjustable Oak Artists Easel - Made in Japan |
| 16 | Vintage Dark stained Pine Art Nouveau style Plant Stand Pedestal - 115cm H |
| 17 | 2 x Pairs vintage blonde wood Spindle back Windsor Chairs - all made in Yugoslavia - 1 pair with Higher backs |
| 18 | 3 x Modern Framed Signed & Titled prints - 2 x by Karen Mason - 'Glittering Prize' + 'The Perfect Day' - both signed & titled, largest frame size 41x35cm + Jan Austin 'Stalemate' w all details to margin, 44x13cm |
| 19 | Group lot - Vintage Bakelite Kitchen items - 2 x sets of Spice Cannisters + Semak Black & White Vitamiser |
| 20 | Group lot of Ladies items Incl Designer shoes Diane v on Furstenberg Black Suede sandals, Burberry Sneakers, Steve Madden Slip on flats , Cartier copy nail bracelet, pipe etc |
| 21 | Large Group Lot Ebony Elephants - Varying in size, largest approx 15cm H |
| 22 | 2 x War Movie Posters, The Wild Geese, & Mosquito Squadron |
| 23 | 3 x Boxes of Assorted Sea Shells incl Multiple Sizes & Shapes |
| 24 | Vintage 1980s First Mfg Co USA made Leather Biker Jacket - size 42, Very Good Orig Cond |
| 25 | Group Lot Ladies 80s Colourful Clothing - Christine White Kimono, Pink Cotton Jumpsuit, Fella Hamilton black beaded evening coat with cami, etc |
| 26 | Mimma Priolo Australian designer ladies skirt suit - lined silk floral chintz in blues, mauves, pink etc |
| 27 | 2 x Vintage Ladies Trench Coats incl Tan Suede Stephen Dattner & Spanish Espanga Black Leather - both button through |
| 28 | 3 x vintage Furs - Mink shoulder cape & coat + stole |
| 29 | 4 x vintage fur jackets incl Mink - Premier Fur Modes, Melb, Sebastian Furs, various colours |
| 30 | Group Lot Vintage & Modern Ladies Boots - incl French Charles Jourdan Brown Leather Boots, Boxed Italian Vicini Boots, other Leather, Sheepskin, some more marked Made in Italy to base, etc |
| 31 | Vintage Eastern Silk Floor Rug - Traditional pattern with muted colours |
| 32 | 3 x Boxes Mixed items - Modern Books, Games incl Monopoly Empires, Toys, Badges, Boxing Training Equipment, etc |
| 33 | Group British Quad Movie Posters (30 x 40 inclhes), incl Lion of the Desert, The Four Feathers, etc |
| 34 | 2 x Boxes of Vintage Fisher Price Kids Toys - mostly vehicles incl house boat, aeroplanes, space shuttle, bouncing buggy, rescue, sea explorer, etc |
| 35 | 3 x modern Books - 'Bird' by Gary Heery, Audrey 100 & Breakfast at Tiffanys 50th Anniversary Companion |
| 36 | 4 x Vintage Leather Travel Trunks suitcases - largest Approx 68cm W |
| 37 | Mixed Group lot RL Buller & Son - Magpie Tawny Port decanter, Travel Clock Playing Cards, Set of 3 small oil paintings & vintage books |
| 38 | 1920s Columbia Viva Tonal Grafonola No 109 Portable Gramophone & a quantity of 78rpm records - some in a case |
| 39 | 2 x Boxes of Vintage Rustic Items incl mostly Fireside Tools & Assorted Tins |
| 40 | 4 x Pces vintage Ceramics & Plasterware incl Art Deco Ashtray with Scottie dog, Plasterware Lion on Rock 25cmH, Lion standing & seated dog |
| 41 | Box Lot Small Sized Vintage Carved Wood, Teak, Ebony & Other Elephants |
| 42 | Group lot - Framed Oil Paintings, watercolours & Engravings - Blue Mountains watercolour signed Moodie, signed Robin Hill print of a Cockatoo, Copper African Portrait, engravings, etchings, etc |
| 43 | Group lot of Items incl Rolling Stands, Work Lights, Tripod, Modern Bikemate Indoor Bike Trainer etc |
| 44 | Group Lot Mixed Items - incl Cast Iron Bug Shaped Boot Pull, Chess Set & Binoculars |
| 45 | Vintage Cow Hide Rug - Cream Charolais 296cm x 196cm |
| 46 | Group Vintage Adventure 1-sheet Movie Posters, incl Waterloo, Cromwell, The Four Musketeers, etc |
| 47 | Group lot - Framed Paintings & Prints - 1930s Bedouin & Desert print, John Meschelen Landscape oil, 1930s prints of Children, etc |
| 48 | 2 x Boxes of Vintage Board Games, Books & Ephemera incl Cluedo , Postcards, English Pictorial Guides etc |
| 49 | Lot of Vintage Fisher-Price Rail Road Play Sets incl Lift & Load Depot, Lumberyard & Railyard w Spare Tracks |
| 50 | Box lot of Vintage Songbooks & LP Records incl Julie Rogers, Chappel's Big Hit Songsterr Song Books, Mae West etc, |
| 51 | Lot of Vintage Gramophone Parts incl Lots of Tone-Arms & ReproducersSound Boxes |
| 52 | Modern Schwinn Stingray 2004 Bicycle Parts incl Forks, Handlebars, Mudguard, Front & Back Rims, Cassette w Crank Arm & Pedal |
| 53 | 2 x Boxes of Mixed Goods incl DVDs, Books on WWII, Magazines etc |
| 54 | Box of Vintage Pewter & EPNS Tankards incl Royal Australian Navy, HMAS Darwin, HMS Perth, Australian Army etc |
| 55 | Box Lot Vintage Ladies Clothing - incl Co-ord Sets, Leather Pants, Knits, etc |
| 56 | Group lot - Vintage & Modern Boxed Kids items - 150 scale Plastic Model Kit of a Japanese Steam Train made by Otaki, Performance Twin set of RC Sports Cars, M-Tik connectable Kits, etc |
| 57 | 3 x Mixed Electrical Items incl Xbox One X, Kenwood KR-V5080 AV Receiver & Kenwood DP-R3080 CD Player |
| 58 | Large Group lot of Stamps & Philatelic ephemera - Australian & International incl Stamp Albums, loose stamps, Books, Catalogues etc |
| 59 | Box lot - Vintage Australian Pottery & Workwear - Bakels Australia Forage Caps, Laurie Fluss, Elke 70s Ashtray, etc |
| 60 | 2 x Boxes Ladies Vintage Clothing & Accessories incl red silk, black applique suit, George Gross brown suede poncho, black long silk wrap skirt, Ika applique jacket, sunglasses, bags etc |
| 61 | 8 x 1980s Italian Beachwood Dining Chairs w Blue Seats |
| 62 | Box of Mixed incl jewellery, beads - carved bone rose necklace, coral (af), crystal, packs beads, broken necklaces, amber, crystals, glass, small jewellery box, Oriental wooden plate stands, metal stands etc |
| 63 | Box lot of Kids Vintage items incl Australian Jakas & another Teddy Bears, Ruberoid doll Commonwealth Bank tin money boxes, baby related ephemera, etc |
| 64 | Group Lot of Fisher-Price Kids Plastic Play Sets & Figures incl 2 x Pirate Ship Playset, 2 x Castle Fortress Play Set, Dragons , Pirates etc |
| 65 | Group lot - Vintage & Modern Skateboards - vintage 1970s Plastic Hansa-Flex, other Modern decks & setups with Thunder & GM Trucks |
| 66 | 3 x Boxes of Vintage Vinyl LP Records incl Sherbet, Olvia Newton-John, Ted Nugent, Fine Young Cannibals etc |
| 67 | Box lot - Eastern items - Hand painted Indian Gouaches & gilt Thangka, Carved Wooden Figural Pillars, Trinket box, etc |
| 68 | Group Lot incl Table Lamp, Vintage Dolls, Elton John, Bob Dylan & Bowie etc |
| 69 | 5 x Boxes Vintage Cassette Tapes, incl Popular, Jazz, MOR, World, etc |
| 70 | Box vintage items incl Ephemera - 1980s Ronald McDonald Colouring Calendar books, Concert tickets inc 79 Santana, Griffiths Sweets 1956 Melb Olympics Tin, Blue Phone Teledex, Magazines etc |
| 71 | Box lot China & Glass incl 10 setting plus Art Deco - Sir John Bennett Mayfair Tea set - 3 Cake Plates, Tea & Coffee Cups, saucers & side plates, Stemmed glass ware - balloon, champagne & sherry |
| 72 | Group Lot Bendigo & Other Brown glazed Domestic Pottery incl Teapots, Jugs, etc |
| 73 | Box ladies vintage clothing - brown suede skirt, long silk Carmen Marc Valvo full evening skirt, black Zelda fitted jacket, Vee Walter Ma dress, pink blouse, Nitya black chiffon dress etc |
| 74 | Large framed vintage Matisse Colour Poster - Icarus - from the Series 'Jazz' - 80x115cm |
| 75 | Vintage Pine light Stained Church Pew - smaller sized, cut out designs to each end, stretcher base with Peg Joints - 149cm L |
| 76 | 1950s Wall Mirror Fine bevelled edge with etched linear lines 57cm H x 92cm W |
| 77 | 3 x Boxes mixed items incl Ceramics, china, Crystal, Glass, Ornaments, Vintage Xmas Paper rolls, dolls etc |
| 78 | Mixed Group lot incl Large Wall Mirror 82 x 120cm, Brass Fireside tools, Timber clocks, Vintage Hat Case & Royalty ephemera |
| 79 | Large Australian pottery Vase commemorating Australian Bi Centennial - white crackle glaze with wax relief lettering & decoration - sgd poss Ruth Park - 45 cms H |
| 80 | 3 x Pces Vintage Copper items incl Coal Scuttle, Kettle & Jug |
| 81 | 5 x John Buncles & Sons - North Melbourne - Cast Iron Spanners incl 3 x S Bend - All marked |
| 82 | 4 X Aust Coin Currency & Medallion incl 1998 Melb $10 Silver Proof Coin, 1985 Victoria State series Silver uncirculated Coin, 1998 Melb Cricket Club $10 Silver Proof Coin, 2006 Discover Aust $1 - Melb silver Proof & Bass & Flinders Bicent Medallion |
| 83 | Small group - boxed Modernist Japanese Silver vesta Case, boxed Pair Gold Plated & Enamel Cufflinks + Japanese White metal Stick Pin + Brooch |
| 84 | Mixed Group Aust Coin Currency & Medallions incl 1999 $1 Majestic Images Silver Proof Coin, 2000 Royal Visit 50 cent Silver Proof Coin, 2 x Queen Elizabeth II Commemorative medallions & 2004 Gold Plated $5 AFL Proof coin |
| 85 | 2 x vintage Sex Pistols Cassette Tapes, Never Mind the Bollocks, The Great Rock n roll Swindle, Wizard label |
| 86 | Mixed Group lot of Coin Currency incl 1998 United Kingdom Proof Coin Collection, 1999 United Kingdom uncirculated Coin set, 2003 Cocos Islands $10 Silver Proof Coin, 2004 Cook Islands $1 Silver Proof Coin, Kiribati & Samoa Millennium Silver Proof coin |
| 87 | Group Lot Vintage Table Cigarette Lighters - incl Ronson Teak, Metal & other Lighters, etc |
| 88 | Group lot mainly vintage jewellery, boxes, cat brooches, Marcasite, silver pendants, faux pearls, earrings etc |
| 89 | Group Lot Chinese Coins - some in cases, some with holes through the middle |
| 90 | 4 x Aust Coin Currency & Medallion incl 1997,1998 & 2002 Silver $100 Kookaburra Coins, 1998 $100 Silver Kangaroo Coin & 1998 Koala silver Proof medallion by Royal Aust & Perth Mint |
| 91 | Group lot vintage Blokey Items incl Pocket Watch, West German Magic Crystal E Type Jag model with wooden stand, Winston Churchill Limbless Soldiers Gilt pin, Montgomery stick pin, Scottish Tartan Driving hat etc |
| 92 | Vintage Replica Flintlock Pistol - mother of Pearl inlay to handle 44cm L |
| 93 | Group lot of Aust Coin Currency 1997 Silver $10 Coins of the Harbour City - Sydney 2 coin set, 1988 $1 Silver The Holey Dollar & Dump set, State Series $10 Silver Coins SA & NSW & Sydney 2000 Olympics $5 Silver Proof coin |
| 94 | Group lot - boxed & loose medallions - 1936-37 Education Dept Victoria Swimming & Life Saving + 8 x 1972 Olympic Yacht Trials Melbourne - all made by Stokes & Sons |
| 95 | Group lot Scissors incl Wiss Tailors, sewing, flower, etc |
| 96 | Approx 51 Comics 1950s+ - Supercomic, Disney, Fawcett, Charlton, Harvey - Tom & Jerry, Donald Duck, Woodpecker, Dennis the Menace etc |
| 97 | Box Lot of Assorted Items incl European Photo Album, Playboy Magazines, Radios, Mens Shavers etc |
| 98 | Vintage 1950s AWA Radiola Deep Image Television in cabinet - working |
| 99 | Group lot - vintage Chairs - Edwardian Tub chair with green velvet Upholstery + pair High back oak Dining chairs with pressed decoration to back rests |
| 100 | Modern Boxed Sampson High Power Electric Bicycle Kit w Motor, Batteries & Accessories |
| 101 | Box lot incl cased Halex 2 piece Pool Cue, metal Expansion File, Penny Skateboard, Green Digital Clock Radio, etc |
| 102 | 3 x Vintage Wooden Ammo & Packing Crates incl Bofors 40mm AA Ammo Crate |
| 103 | 2 x Boxes Modern Movie & TV DVDs, incl Top Gear, Hot fuzz, X Men, Star Trek, Star Wars, Monty Python, etc |
| 104 | Box lot of St Kilda & other Football items incl St Kilda Flags, Stickers, Framed prints, Glasses, Cushion, AFL Records, Inside Football Magazines Aust Football Hall of fame 2001 etc |
| 105 | Modern Replica of an Eero Saarinen Womb Chair - Red woollen Upholstery, needing seat & back cushions |
| 106 | Vintage Wooden Camphor Wood Trunk - Approx 71cm W |
| 107 | 3 x Pces vintage Occ Furniture - Arts & Crafts Blackwood Plant Stand + Pair Dainty wooden Chairs with Cane seats - plant stand 92cm H |
| 108 | 3 x Metal Military Ammo Crates incl WW2 Australian Inert Practice PIAT bomb Case, Tracer Round Ammo Crates etc |
| 109 | 2 x Large Framed Pictures - Vincent Van Gogh Exhibition Poster from The NGV & QAG 99x69cm & Artist Unknown Large framed c1920-30s Charcoal Drawing - Portrait of a Girl - Unsigned - 73x53cm |
| 110 | Group lot - Pictures - Framed Joy Langley Oil paintings, Photo's, Tapestrys, etc |
| 111 | Group lot - Framed & other Aboriginal Oil Paintings & watercolours - various Traditional & other subjects, some signed & others with details verso - largest 50x60cm |
| 112 | Group lot - Vintage Metal Outdoor Furniture - Pair white Modernist Chairs with Arm Rests & foot stool + another pair Black Painted chairs |
| 113 | Large Vintage Block Mounted Exhibition Poster - POP ART 55-77 featuring fantastic Roy Lichtenstein w some discolouration & damage sighted |
| 114 | Modern Display Cabinet w Light & 3 x Glass Shelves - Approx 153cm H x 76cm W |
| 115 | Group lot - Vintage & Modern Fishing Rods, Reels, 2 x Tackle boxes & Contents, etc |
| 116 | Group Lot of Vintage Wooden Items incl 2 x Green Dining Chairs, Milking Stool Seat, Fireplace Curb & Another Dining Chair |
| 117 | Group Lot of Vintage Metal Items incl Vintage Barbed Wire, Wall Mounted Bottle Corker, 2 x Metal Kettles & A Jug |
| 118 | Modern Boxed Turbo set 200 Professional Oxygen MAPP Pro Welding Set w 2 x Canisters of MAPP Pro Gas & 2 x Canisters of Oxygen |
| 119 | Lot of Vintage Wooden Crates & Caneware incl 3 x Macs San Remo, AF Macs Liquor Crate, Elders Ceylon Tea Box & Coat Rack Made w Railway Spikes |
| 120 | 4 x Boxes Auction Catalogues & Art Magazines - Art, Sporting Memorabilia, Antiques, etc |
| 121 | 4 x Packaged Modern Power Tools incl Dick Smith 40pc Hobby Rotary Tool Kit, Taurus Orbital Sander, Arlec 60mm Jigsaw & Medallist Mini Hobby Kit & Engraver |
| 122 | Box Mixed Books, incl Art Reference, Photography, etc |
| 123 | Box approx 53 Comics - Planet, All Favourites, Superman Supacomic, Presents, All Favourites, All Star, Charlie McCarthy in Comics etc |
| 124 | 4 x Vintage Metal Crates & Chests incl 1942 Ammo Crate, Tool Chest etc |
| 125 | 6 x Vintage 1950s Metal Military Jerry Cans incl some marked with War Department Symbols |
| 126 | Group Lot of Vintage Speakers & 2 x Turntables incl AWA Sp-1 Turntable, Kenwood KP-2022 Turntable, Pair of Teac 3-Way LS860Speakers, Pair of His Masters Voice Speakers etc |
| 127 | 2 x Boxes Mixed Vintage incl Ladies Compacts, Board games - Aust Monopoly, Psychologizer, Tuckfields Australiana Bird Series Cards, Advertising cards, vintage tourism postcards & envelopes etc |
| 128 | Box Motoring Ephemera & Magazines incl HC Gregorys Holden HX-HZ V8 Manual, Alfa Romeo Ed 12 Spare Parts List & dealer guide, 1971 Volvo Original Genuine Volvo Parts, Alfa Romeo Car Sales Brochures etc |
| 129 | Group Lot of Art Supplies & Reference Books incl Artists Paints, Theatre Programs, Postcards, Paint Brushes etc |
| 130 | Lot of Boxed Kids Games & Toys incl Kerplunk, Lego Elves Water Dragon Adventure, Lego Duplo Ariel's Magical Boat Ride Set & Lego Duplo Cinderella's Castle |
| 131 | Box Vintage & Modern Childrens Books, incl Iceage pop-up, Sunday annual 1905, Teddy Bears a Celebration, etc |
| 132 | 3 x Boxes Assorted Toys, incl Artist Bears, Unmade F-104G Starfighter, Vintage metal trolly, Fisher Price trucks, etc |
| 133 | Modern Work zone Titanium MiniMig 240V Mig Welder w Handmade Welding Trolley |
| 134 | Vintage Wicker Dolls Pram with Contents plus Box of Soft Toys - Elephant, Teddies, Dogs, Elephant, Clown, elephant, etc |
| 135 | 3 x 1970s Maclaren Adjustable Aluminium Play Buggy Push Doll Strollers |
| 136 | Box lot of Vintage Items, incl Tins & Boxes, Vespa Sign, Clegg & Kemp Melbourne Jam Jar, Harrods Pen, Magnifying glass, etc |
| 137 | 3 x Boxes of Vintage Fisher Price Kids Toys - mostly educational incl clock, telephone, cash registers, record players, music boxes, cameras, etc |
| 138 | Lot of Vintage Bottles & Soda Siphons incl Dutch Stoneware Gin Bottles, Schweppes Soda Siphons , Fowlers Glass Bottles etc |
| 139 | 3 x Vintage Portable Gramaphones incl Stewart Hand Crank Phonograph , Newtona German Phonograph & Another |
| 140 | Box Lot of Vintage Hand Tools incl Drill Bits, Auger Hand Drills, 2 x Steering Wheel Locks etc |
| 141 | 3 x Boxes of Assorted Goods incl Glassware, Christmas Items, Pics etc |
| 142 | Group lot of vintage metal garden items incl two tier pot plant stand, Pedestal plant stand, 3 arm pot plant stand (af), Garden art - water bird, rooster, Watering cans etc |
| 143 | Large lot - 10 x Boxes - Heaps CD's, cassette Tapes, DV's, etc - Grace Jones, Van Morrison, Jeff Buckley, Notorius BIG, Cypress Hill, Classic Movies & TV Series, etc |
| 144 | 3 x Boxes Mixed items incl China, Glass, Lamp, Ceramics, Star Wars Ephemera etc |
| 145 | Vintage Barbie Horse Trailer with box |
| 146 | Modern Red Plastic Lockable Single Drawer Filing Unit |
| 147 | 2 x Boxes of Vintage Fischer-Price Kids Toys Incl Pickup Truck w Foldout Caravan, Animals, Figures, Circus Train etc |
| 148 | Vintage standard floor lamp - circular stepped base - frosted & patterned glass Upturned shade 76cm H |
| 149 | Vintage c1900s-1920s JW Johnston & Co Treadle Sewing Machine - in original decorative cabinet with drawers each side + some original paperwork & access |
| 150 | 2 x Pces Vintage Akai Stereo gear - AP-100C Model Turntable + Stereo Cassette Receiver model AC-3500 - both working |
| 151 | Group Lot of Vintage Mixed Items incl Folding Campaign Chairs, Folding Step Ladder, Framed Pictures etc |
| 152 | 3 x boxes Mixed household items, incl Pottery Clown, vintage Tins, Carved Wooden Items, Glass, Ceramics, etc |
| 153 | Group Lot of Assorted Items & Blokey Tools incl Casio Keyboard, 1943 Ammunition Crate, Cordless Sander, Assorted Toys |
| 154 | Box lot - Modern Kids Books & Games - The Complete Maus, Minecraft guides, Dr Seuss, Trivial Pursuit 20th Anniversary, etc |
| 155 | 2 x Items incl Modern Adjustable Coat Rack & Large Wooden Giraffe w Spring Neck - Coat Rack is Approx 173cm h |
| 156 | Herd of Carved Light stained Teak & other timber Elephants - various stances & sizes incl bookends 8cm to 31cm H |
| 157 | 2 x Vintage Arts & Crafts Wooden Fire screens with silky oak panels Approx 79cm H |
| 158 | 2 x Boxes approx 200 Comics - DC, Marvel, Caliber, Flash, Batman, X-Men, Superman etc |
| 159 | Large Box Kids toys incl Volvo A60H Dump Truck, Nerf Guns, Remote Control vehicles, Graders, Super Soakers etc |
| 160 | 4 x Boxes of Assorted Books incl Gardening, Historical, Novels, Cooking etc |
| 161 | 2 x Boxes Vintage Newspapers & Magazines, incl Go-Set, Mates, Private Eye, Eagle, The Militant, etc |
| 162 | Box lot - Vintage Humphrey B Bear items, incl Pyjama Bags, Clock, Hand Puppets, etc |
| 163 | Group Lot of Retro Items incl Striped Deck Chair Fabric, Pair of 1870s Rainbow Knee Guads etc |
| 164 | Group Lot of Items incl Malvern Star Trailblazer Mountain Bike, Stationary & Other Tools incl 2 x Vintage Folding Metal Toolboxes, Pliers, Hole Punches etc |
| 165 | Group lot - 2 x Rebels of Rock Card board Posters & Box of Assorted CDs incl Linkin Park, Elvis, Stevie Ray Vaughn etc |
| 166 | Box lot Toys & Games, incl Star Wars Card Game, Donkey Card Games, Pro Golf Hand-held Electronic Game, Hannibal Lector Figure, Bobble Heads, Sailor Doll, etc |
| 167 | Box Lot of Assorted Goods incl Wooden Train Whistle, Vintage Guitar Strap, Vintage Musicway Mack 87 Microphone, Clip On Lights etc |
| 168 | 3 x Boxes of Vintage Mixed Cassette Tapes incl Country, Sing--Long , Classical etc |
| 169 | Large lot Vintage Magazines, incl 1947 Pix, 1950s Everybodys, 1970s Australasian Post & Pix People, etc |
| 170 | Mixed Box Vintage & Modern Books, incl The Heros - Greek Fairy Tales (1856), Album of Scenes from the Oberammergau Passion Play 1930, Birds, Gardening, etc |
| 171 | 2 x Boxes - Vintage & Modern Ladies Clothing & access - Colourful Summer Dresses, frocks, shawls, Jackets, tops, etc - various labels & sizes |
| 172 | Box lot of Vintage Fisher Price & other Kids Toys incl drum, pull along cow, Tamborine, Russian music box, magic show, eye chart, shapes puzzle, etc |
| 173 | Box lot of Books on Australian History incl the Faal Shore by Robert Hughes, HMAS Sydney by Tom Frame, Bairnsdale - A Portrait of Country Town, Buckleys Hope etc |
| 174 | 4 x Boxes of Vintage Mixed Cassette Tapes, incl Country, MOR, Box Sets, etc |
| 175 | Group lot Mixed Books, incl Australian History, Entertainment, Dragonology, Sport ephemera, etc |
| 176 | Box Vintage Ephemera incl 1934 Victoria Centenary Herald Newspaper, Bound 1934 Junior Argus, magazines, etc |
| 177 | 2 x Boxes Mixed Elephant Figures - incl Carved Wood, Resin, etc |
| 178 | Vintage German Graetz Polka 1213 Gross-Super Mantle Valve Radio |
| 179 | Vintage 1940s Healing 'Golden Voice' Mantle Valve Radio in Bakelite case - Made in Australia |
| 180 | Group lot of Crystal & Glass incl Bowls, Lidded Boxes, Dressing set trays, Atomiser, Perfume Bottle (af) Jugs, Ring Holder etc |
| 181 | Modern Boxed 2007 Apple iMac Computer w Microsoft 2008 Office for Mac Software |
| 182 | Richard Herzog (Active c196070s) 2 x Framed Oil Paintings - 'Serenity Eurobin' & another Traditional Landscape - Both signed lower right - 44x59 & 29x39cm Each |
| 183 | 3 x Framed Still Life paintings - Margaret Torney pastel 'Altissimo', Jean M Cummings 'Kangaroo Paw' + Maurine Wrigley Cootamundra Wattle' - all signed some titled verso - largest 38x48cm |
| 184 | Lot of Vintage Fischer-Price Kids Play Sets incl Sesame Street House, Play Family house, Play Family Farm, Play Family Shops etc |
| 185 | Large Group lot Mixed 1-sheet Movie Posters, incl Love Story, Canterbury Tales, The Old Man & the Sea, The Agony & the Ecstasy, etc |
| 186 | 3 x Vintage Etchings & Engravings - large unframed Engraving on Canvas 'Ecce Homo' after the painting by Gustave Dore (discolouration & damage sighted), Framed Hogarth engraving marked 'frontispiece to Taylors perspective' upper margin + Otto Holm Etchin |
| 187 | 2 x Pces Oriental - Carved Soapstone Font with Monkeys + Large Pottery Vase w hand decorated Village scene - vase 47cm H |
| 188 | 3 x Pces Modernist Australian Studio Pottery incl large John Stroomer vase |
| 189 | Large Roger Keane Australian studio pottery stoneware Vase - rough textured with rubbed iron oxide - sgd to base - approx 42cms W, 30cms H |
| 190 | Group Vintage Action 1-sheet Movie Posters, incl Zulu Dawn, Krakatoa East of Java, etc |
| 191 | 2 x Framed Maritime prints - Large Gilt Framed Montague Dawson - 'The Action Between Java & Constitution, December 1812' + 'Lady Nelson in the River Tamar 1804' -largest 55 x 80cm |
| 192 | 2 x Cases Vintage Shop display Pricing & Lettering - white on black & black on White in original divided cases |
| 193 | 2 x Vintage Hand Painted Tin Beer Signs - West End Draught & West End Export, approx 30cm H, 45cm L |
| 194 | 3 x 19Th Century HC Books incl Sacred Biography & History First Edition 1878, c1896 Ogilvie Encyclopaedia of Useful Information and Atlas of The World & The Pilgrims Progress & Holy War by John Bunyan - all in original condition |
| 195 | Lot of Vintage Assorted Items incl 2 x Reuge Music Boxes, Boxed Argus Colour Slide Viewer, West German Metronome, Pocket Calculator |
| 196 | HC Book - 1886 England under Victoria publ by Walter Scott London - colour lithographs & other plates, damage to spine |
| 197 | 3 x Modern heavy Enamel signs - Officially Licensed by the New York Subway - Times Square, Grand Central + Brooklyn Bridge - all with details verso 26x43cm each |
| 198 | Group lot of Vintage Books - mostly The Saint by Leslie Charteris, sc Hodder & Stouhgton Paper Yellow Jackets, also incl Author Edgar Wallace etc - assorted titles |
| 199 | 2 pces inc Glass Biscuit Barrel w Hand Painted Label & Vintage Boxed Bamix Electric Stick Blender |
| 200 | Lot of retro Kitchenalia incl Eom Plastic Canisters, Floral Water Jug, Blue Casserole Dish etc |
| 201 | Mixed Group lot Ladies items incl Navy beaded evening bag, Coin purse, Limoges style charger, Crystal Decanter, Lidded boxes, Vases etc |
| 202 | Mixed group lot incl bakelite kitchen cannisters, amber glass tumblers w etched swans, carved lava Hawaiian figure, peach glass flared vase, cloisonne egg & pair of ducks etc |
| 203 | Group lot of Animals figures - Ceramic, Glass & Metal incl Blue Mountain pottery Elephant, Fawn, Modernist Elephants, Penguin, Horse etc |
| 204 | Group lot of China & Crystal incl Crystal Art Deco Clock Square stepped base with diamond cut circular top 18cm H, Royal Albert Primrose Beds Cabinet plate, Wedgwood Lilac Jasper, Clarice Cliff Rural Scene Plate, Grindley bowls etc |
| 205 | Group lot - Modernist Glass & Cut Crystal - boxed Krosno MCM Lemonade set, Tumblers, stemmed wine glasses, etc |
| 206 | Group lot of Vintage EPNS incl 2 x American Meriden domed butter servers, English Walter Oxley cheese dome & a Kent Plate teapot |
| 207 | Approx 22 x Murray Comics 1970s+ incl Superman 19, War Heroes, Dial H for Hero, Chilling Tales etc |
| 208 | 2 x Framed Modernist Paintings - Judith Stoney Oil 'Grape Picking, Italy' + S Hardie Charcoal 'Boy sitting on Sacred Cow' - both signed - largest 57x90cm |
| 209 | Box Vintage Mixed ephemera, incl 1937 Health & Efficiency Mag, Helen Keller Souvenir Programme, Olympic, Military, Geological surveys, etc |
| 210 | Large lot Vintage Day Bill Movie Posters (some AF), incl Jane Eyre, The count of monte Cristo, Romeo & Juliet, Bedknobs & Broomsticks, etc |
| 211 | Vintage 1930s Tri-purpose SVE Projector Model AA in original Carry Case with accessories & instructions for Movie, Slides and Stereoscope |
| 212 | Group lot mixed Collector Cards, incl the Osbournes, Abbott & Costello (full set), Stereophonic Cards, Cereal Cards, etc |
| 213 | Mixed Box lot incl Mens watches, 2010 Toyota AFL Grand final Admission Ticket, Mornington Kookaburra dish, Badges inc Russian SU-27 badge, medallions, keys etc |
| 214 | Group Lot Elephant Figures - incl Ceramic, Cast Metal, Carved Soapstone, Carved Wooden, etc |
| 215 | Group lot - Vintage Rock & Geological Specimens, Fossils, Carved shells & shell Purses, etc |
| 216 | Box lot costume jewellery & boxes, brooches, butterflies, Xmas, diamante, pins, Vietnam war, Red Cross, etc |
| 217 | Mixed Group lot, incl Box Football Collector Cards & Books incl The Military Paintings of Terence Cuneo, Toy Soldiers, Osprey Men-at-Arms, Something in the Cellar - Ronald Searle's Wonderful World of Wine, etc |
| 218 | Box Lot Football Ephemera - incl Footy Records, Newspapers, etc |
| 219 | Joel P Magpayo (1941 - ) 2 x Framed Watercolours - Roo-deo & On the Rail - both Signed lower right & left + Titled on Labels Verso - 50x36 & 34x25cm Each |
| 220 | Les Kossatz (1943-2011) Large Framed Colour Lithograph - Spent Can - Signed, dated '72, titled & numbered in Pencil on Margin - 76x101cm |
| 221 | Henry Charles Fox (British 1855-1929) Large framed Watercolour & Gouache - Country Scene with Cattle at the Stream - signed & dated 1919, lower right - 35x53cm |
| 222 | Andrew Harris (Active c1970s & 80s) Framed Mixed media - Lord of the Rings - Signed w Initials & dated 1970, lower right, further signed & titled verso - 49x68cm |
| 223 | Howard Sparks (1930 - ) Framed Oil Painting - Spring in the Bush - Signed lower centre - 44x59 5cm |
| 224 | Artist Unknown - Framed c1930-50s Australian Watercolour - The Old Mill - remnants of feint signature, lower right - 27x38cm |
| 225 | Robert Kerr (1925-2003) Framed Oil Painting - An Outback Homestead - Signed & dated '73, lower left & right - 39x60cm |
| 226 | Thomas W Dewey (Active c1900s) Framed Watercolour - A Bush Stream - Signed & dated 1911, lower left - 26x38cm |
| 227 | Artist Unknown Gilt framed c1900-20s Oil Painting - Landscape with Mountain Range in the Background - Unsigned - 29x22cm |
| 228 | James Farrell (1902-1999) Framed Watercolour - Tilpa, NSW - Signed & dated 1939, lower left, further details verso - 20x26cm |
| 229 | Chris Chun (Active c2000-2020s) Framed Mixed media - The Girl & Her Fish - Signed, titled & dated 90, lower right & centre - 22x22cm |
| 230 | Anton Rosmann (Active c1970-80s) Gilt Framed Classical Oil painting on Canvas - A Cloudy Sky - Signed & dated 1978, lower right, titled verso - 49x59cm |
| 231 | Hilda Bernstein (South African, 1915-2006) Framed Collage - Johannesburg Dustmen - Signed with Initials, lower left, further signed & titled on Exhibition label verso - 53x42cm |
| 232 | Pierre Boncompain (French, 1938 - ) Framed Colour Lithograph - Le Reve - Signed in pencil on margin lower right, numbered 132150 - 47 5x61cm |
| 233 | Artist Unknown stretched Aboriginal Oil Painting on Canvas - Untitled (Weapons) - no details sighted - 45x73cm |
| 234 | 4 x Corning Ware lidded casserole dishes, assorted sizes - Cornflower Blue pattern |
| 235 | 4 x Vintage carved Ebony & other wooden Elephant trains 38 to 47cm L |
| 236 | Group lot inc Vintage Cased Laurel 7x50 Binoculars in Original Box, Specwell 8x20 Monocular In Carry Case & Vintage Tin Money Box |
| 237 | Large group lot - Royal Doulton & Beswick English China - Pine Frost coffee set, Bunnykins Bowls & Mugs, Beswick Butter dishes, etc |
| 238 | Mixed Group lot inc Meccano Motorised 4 set, Shape-O Toy, Framed Football photo Paul Van Der Haar, 2 x HC books The Dreamtime Book & Human Anatomy |
| 239 | Pair Hand painted Donald & Daisy Duck Cartoon Cels - both hand painted on thin clear Plastic with Coloured backing & outline of image - 40x28cm |
| 240 | Lot of Vintage 45rpm Vinyl Singles incl Bob Dylan, Elvis Presley, John Lennon & Yoko Ono etc |
| 241 | Large (incomplete) 3-sheet Movie Poster - Airport 80 The Concorde |
| 242 | Lot of Vintage Australian Vinyl LP Records incl Johnny Chester & Jigsaw, Countdown Chartbusters, Johnny O'Keefe, The Blue Echoes, The Seekers etc |
| 243 | Pair heavy vintage Weighted Brass Bookends - The Thinker - no marks sighted, 18cm H |
| 244 | Hcover volume - Enjoy the Experience, Homemade Records in the USA 1958-1992 - pub in 2012 by Sinecure Books |
| 245 | Vintage Wooden Fry's Chocolate Box w contents incl 40 Lionel Lindsay Bookplates, 2 x Chief No1 Playing cards, Assorted Postcards & Photographs etc |
| 246 | 1970s Biltons England Part Coffee set incl Coffee Pot, Milk, Sugar & 5 x Cups & Saucers |
| 247 | Educational Poster - Don't Play on the Road - issued by Australian Road Safety Council |
| 248 | 3 x boxed Lego Games - Pirate Code, Minotaurus & Heroica - all opened but look to be complete |
| 249 | 3 x Modern Kids Toys incl Captain America Shield Backpack, WowWee Spider-sapien RC Robot, LEGO Juniors The Joker Batcave Attack Set |
| 250 | Vintage Embossed Leather Case - Lockable w Key |
| 251 | Vintage c1970s Carved Teak Figure of an Asian Girl in Prayer - 65cm H |
| 252 | Large decorative C1900 Japanese Nippon Export Ware Vase - 3 panels with hand painted lake boating scenes, gilt moriage floral & other decoration, fluted rim & twin bamboo shaped handles, stamped to base, approx 50cm H |
| 253 | Vintage Besson Coronet with case - Department of Defence markings to coronet & DD 17 NS TRG BN marked to case |
| 254 | Group lot - Vintage Risque & Pinup Girl items - old NUS Magazine No 11 with Nude photography by Theda & Emerson Hall printed in France + 4 x Tip & Strip Pens featuring Bikini Girls & Men with disappearing Bathers |
| 255 | Group lot - Vintage Australian Pottery - Unsigned Seated Aboriginal Figure with Snake, Koala Bear Napkin ring, Casey ware Trough, etc - trough 27cm L |
| 256 | 3 x boxed Futurama Toys - Leela, Bender, Zapp Brannigan - few accessories missing |
| 257 | Approx 28 x Marvel Conan The Barbarian Comics - gc |
| 258 | 5 x Boxed LEGO sets w Some Unopened incl 2 x Lego City Mission Sets, Lego City Rover Testing Drive set, Lego Creator 3-in1 Dune Buggy set & LEGO City Crook Pursuit set |
| 259 | Group of Boxed Danbury Mint Diecast Model Cars - 1925 Ford Model T & 24kt Gold 1931 Ford Model A - and, Novelty Characters - Racing Grannies & Fighting Grandads |
| 260 | Vintage Gilt Framed Religious Illumination - Psalm 51, Have mercy upon me O God - hand painted intricate border - 19 5x12cm |
| 261 | 2 x Large vintage Denoyer-Geppert published Educational Wall maps of The USA - 1 map showing Secession & the other showing Abolition, Cotton production, Reconstruction & Per capita Wealth - largest |
| 262 | 2 x Vintage Wooden Clock Cases both w original movement replaced with battery 49cm & 53cm H |
| 263 | 2 x Pces Glass incl Villeroy & Boch 3 branch Candle holder, approx 30cm H & a tall tapering glass vase, approx 45cm H |
| 264 | Lot of Modern Boxed Party Lights & Effect Machines incl Fog Machine , LED Laser Lights & Bubble Machine w Liquid |
| 265 | Large group of vintage Kitsch Shell Art in Cased Floral arrangements, Fish scene, Framed, Floral Ornaments etc |
| 266 | 2 x Vintage Game Sets incl Vintage Painted Aluminium Chess Set & Vintage Boxed Dominoes Set |
| 267 | Group lot of Vintage Toys & Games incl Japanese Yonezawa Transforming Jet Robot (working af) , Unmade 1-24 Scale model Revell Volvo 760 GLE, Toltoys Run Yourself Ragged & Pass the Peanuts Game |
| 268 | Vintage Cast Iron Wolverhampton Coffee Grinder - handpainted orange sections |
| 269 | Group lot of Blokey items incl Vintage Tins & Boxes - Some with contents inc Top Mill No1 Snuff, Henri Wintermans Cigars etc & HC WWII Aust Military Books - 5 vol Jungle Warfare Soldiering on Khaki & Green etc |
| 270 | Approx 10 pces Art glass - various fish, bowl etc some af |
| 271 | Vintage Stacking Cake, Biscuit & Pastry Tin w Contrasting Colours |
| 272 | Group lot Modern Franklin Mint stag-themed Tankard, & Fob Watch with Stand |
| 273 | 2 x Items incl Retro Nally Plastic Spice Set & an Studio Pottery purple glazed bowl |
| 274 | Artist Unknown Unframed Modern Nave Watercolour - The Toora Pear Party - Unsigned, 29 5x42cm |
| 275 | 3 x Pces English china - 2 x Sadler Teapots 'Band Stand' & 'Circus' both w COA's + Musical Beatrix Potter figure 'Benjamin Bunny' |
| 276 | Small Group Lot Carved Ebony Elephants & Hippopotamus |
| 277 | Robert Cox (Active c2000s) Stretched Oil Painting on Canvas - Poppy - Signed lower right, details on label affixed verso - 30 5x30 5cm |
| 278 | Lot of Vintage Skippy The Bush Kangaroo Items incl Adventures With 3 x Skippy Little Golden Book Stories, Skippy LP Record, Skippy Bessemer Melmac Plate & Mug |
| 279 | 3 pces incl Japanese Export ware twin handled 33cm H, Victorian twin handled with roses detail, Milk glass Vase w clear handle & raised gilt detail 28cm H |
| 280 | Box Lot of Vintage Kids Dolls incl Roddy, Pedigree etc |
| 281 | 2 x Vintage pressed Glass Oil lamps tallest 47cm H |
| 282 | Vintage Aust Sharpe Bros stoneware Demijohn with original cork & wire carrier 35cm H |
| 283 | Lot of Vintage Kitchen Items incl Arc Lever Egg Scales, Large Shears , Hanson Weight-Master Kitchen Scales & 2 x Fairway Kitchen Scales |
| 284 | Vintage Ballistic Nylon Camera Bag w Four Pockets, Sling & Original Tags |
| 285 | Group 3-sheet Classic Movie Posters, incl Seven Brides for Seven Brothers, Mary Poppins, My Fair Lady, etc |
| 286 | Group lot incl Marilyn Monroe Handbook, Hot Nylons photography book, Aust Playboy Cartoon Collection, Supermodel Collector Cards, etc |
| 287 | Lot of Retro and Mixed Items incl Fisher-Price Little People Nativity Scene Phillips All Transistor Portable Radio etc |
| 288 | Group lot of 10 x Vintage Day Bill Movie Posters feat Julie christie, Ursula Andress, Sidney Poitier, Anne Bancroft, Michael York, etc |
| 289 | Vintage Salter - England Cast Scales with weights & two brass pans |
| 290 | 1950s Tri-ang Diecast Boxed Ships Minic Part Set - RMS Queen Elizabeth Presentation set |
| 291 | Lot of Vintage Daybill Movie Posters incl Sophia Lauren & Paul Newman in Lady L, Barbra Streisand in What's Up Doc, Catherine Spark in Break-Up etc |
| 292 | Box Vintage St Kilda & Other Football Ephemera - incl Tickets, Practice Match Records (1973 & 1977), etc |
| 293 | Vintage Wooden Slanted Writing Box & Ladies Items incl Metal Needle Case, 2 x Thimbles, Small Butterfly Tape Measure |
| 294 | Group lot of Vintage China & Glass incl Green Depression Glass Bowl, Royal Albert Moonlight Roses Clock, blue glass serving bowl in a hammered metal stand, 2 x boxed Royal Worcester Egg Coddlers & a Carlton Ware blue dish (af) |
| 295 | Group lot, incl Norah Wellings Sailor Doll, Vintage Advertising Swap Cards |
| 296 | Group lot of Ceramics incl Royal Winton Cottage Scene, Teapot Cream English Teapot, Japanese Orange Lustre Childrens Teaset Wedgwood Sage Jasper, Royal Doulton Racing the wind cabinet plate etc |
| 297 | 3 x Pces - Vintage Bakelite - Westclox Art Deco Alarm clock, Smiths Sectric w Visible Alarm setting + Ashtray |
| 298 | Lot of Vintage English Cabinet Card Photographs incl Portraits, Family Photos etc |
| 299 | 1974 Jim Beam 450SL Mercedes Decanter, approx 33cm L |
| 300 | 3 x Vintage oriental boxes incl Brass with etched scenes, Wooden pokerwork box with floral design & lidded ceramic box |
| 301 | Vintage Minolta Hi-Matic 7s Single Lens Film Camera w Leather Carry Case - Made in Japan |
| 302 | Mixed Group Lot - incl Small Pottery Vase, Brass Owls, Charlie Brown, etc |
| 303 | Vintage Neptune Lubricant One Gallon Radiator Oil Tin |
| 304 | Group Lot Vintage Beer Glasses - Differing sizes, Etched engravings -St Kilda Football Club, Ulva NSW, Hotel Renmark, Bearys Royal Hotel, Ferguson, J McKenzie etc |
| 305 | 3 x Framed Vintage Miniature Shell sets incl Sea Urchin, Coral, Horse Conch, Cone snails etc |
| 306 | Modern Victorian style Porcelain Phrenology Head - marked to Front & sides by L N Fowler, Ludgate Circus London - 30cm H |
| 307 | Mixed Group lot of Australiana incl 2 pces Pottery - Green Glaze Joseph Szirer Lidded Pot, Flared Brown glaze vase, HC The Death of a Wombat & Dingo King by Clifton Pugh etc |
| 308 | Group lot of Cabinet Plates incl Mysteries of the Deep, Carol Lawson Childrens series, Floral etc & Cat Catnip figure |
| 309 | Mixed Group lot incl 2 x German Dome Clocks, Orrefors Leaf shaped plate & J & G Meakin Lilac Time Tureen, Bowls Plates etc |
| 310 | Small box Modern Camouflage Clothing - shirt & pants + 2 x Caps |
| 311 | Lot of Vintage Items incl Trivet Stand made from a Horse Shoe, Anodized Picnic Cups, Tins, Cast Metal Clothes Iron etc |
| 312 | 2 x Items incl Orrefors leaf shaped glass bowl & Porcelain Friends of the Forest Thimble Set with stand & COA |
| 313 | 3 x Aust Coin Currency Millennium Series Coins - $10 Bimetallic Coins incl 2 x 1999 The Past & 1 x 2000 The present by Royal Australian Mint |
| 314 | Group lot Metal & Enamelled Buttons and Badges, incl Military, Clubs, Kilt Pins, etc |
| 315 | Aust Coin Currency - 2006 Great Maritime Explorers of Australia Proof Set (4) $100 99 9% Silver by Perth Mint in presentation case |
| 316 | Group - 1920s stickpin, rose gold top with tiny amethyst & 6 Continental spoons, some marked silver |
| 317 | 2 x Aust Currency Coins incl 1997 Australia Kookaburra 1oz Edison Privy Mark One dollar coin & 1999 1oz Aust Kookaburra Centenary Sovereign Privy mark issue both by Perth Mint |
| 318 | Cook Islands Coin Currency 1999 Silver Proof set - The Ships that made Australia - Coin series (5) 99 9% Silver by Perth Australian Mint in wooden presentation box |
| 319 | 5 x Aust Coin Currency coins incl 1995 Uncirculated coin set, 1999 One dollar fine silver proof coin - The last Anzacs, 2000 HMAS Sydney II one dollar Silver proof coin & 2 x 1999 Dollar uncirculated - The Last Anzacs all by Royal Aust Mint |
| 320 | Aust Coin Currency - 1999 Aust Lunar Silver Coin Series of the Rabbit Proof Issue Silver content 2oz 1oz Half oz by Perth Mint in original presentation case |
| 321 | Group lot vintage badges incl Airforce Badges RFC, RAF & Air Training Corps, Royal Victorian Aero Club, Aircraft Club Badges & Keys |
| 322 | Aust Currency Uncirculated 1999 Silver Two Ounce Coin & Medal Set by Perth Mint |
| 323 | 3 x Aust Currency Coins incl 1997 Old Parliament House silver proof $100 coin, Parliament House 10 years on $100 Silver Proof Coin & 2000 Proclamation Coins of Australia Britannia $100 silver proof coin - all by Royal Aust Mint |
| 324 | 2 x Aust Coin Currency incl 2004 Australian Penny $1 proof coin (40yj Anniversary the last Aust Penny) & 2006 Aust Pre Decimal 1oz Silver Coin - $100 both by Perth Mint in original cases |
| 325 | 2 x Aust Coin Silver Millennium Coins - 1oz silver incl 2000 three heavenly bodies Moon-Earth & Sun & 2001 Ancient Egyptians both by Perth Mint in original boxes |
| 326 | Aust Coin Currency - 1998 The Australian Nugget Proof Issue - 110 oz Gold - $1500 by Perth Mint |
| 327 | Aust Coin Currency 1999 Aust Kookaburra Proof Issue (4) 2oz silver by Perth Mint ion original presentation case |
| 328 | Aust Coin Currency 1998 Coin Proof set (5) - The Aust Fauna Silver Coins (999%) by The Perth Mint in original presentation case |
| 329 | Aust Coin Currency Silver Kookaburra Collection Proof set of 11 (1990-2000) 1990 $5 & 1991 - 2000 $1 all 999% by Perth Mint in presentation box |
| 330 | Group pocket knives various sizes incl F Dick horn handle, Okapi, Richards, etc |
| 331 | Modern Replica Mens Breitling Watch - Aviamatic automatic with clear back to see workings, model number A41322, working |
| 332 | 3 x Aust Coin Currency - Kangaroo themed incl 1998 $100 Silver Proof, 1998 $100 Silver Proof & 2003 Aust First selective $100 Gold plated coin all by Royal Aust Mint |
| 333 | 1920s English Felix takes a Walk novelty childrens Cup & Saucer |
| 334 | 1888 Bronze Centennial Int Exhibition medal, Melbourne Mint, marking centenary First Fleet's arrival - 76 mm |
| 335 | Aust Coin Currency - 1999 2000 Silver One Ounce Kookaburra 10 Coin Privy Mark Set - Privy overlay Aust Landmarks - $100 denomination by Perth Mint in presentation case |
| 336 | Vintage Thin Plastic Skateboard - Blue deck marked 'Made in New Zealand' & 'Polypropylene', original Trucks & Trax Hot Juice Wheels |
| 337 | Group pocket knives & hc Book Pocket Knives - some with sheaths - Taylor, Shelham, KI Mora, small novelty pistol, florist, etc |
| 338 | Small lot - Vintage car badges incl Valiant Pacer, 2 x Valiant V Eight 318 & 2 x Dodge |
| 339 | Vintage Holden Dashboard HG - HT Monaro with 140 mph Speedometer & 70 rpm & Accessories |
| 340 | Vintage 1950s Holden FJFX Dashboard & 2 x Holden Hubcaps |
| 341 | Group of Japanese ceramics incl Sumida Gawa four figure Vase (af crack & chip) 30cm with Carved footed stand & set of 6 glazed saki cups |
| 342 | Mixed Group China & Glass, Royal Doulton, Coronation trio, set of 1954 Royal Visit Glasses |
| 343 | 2 x Pces 1930s Glass (both AF) incl Northwood Electric Blue Carnival Glass Bowl - Peacocks on the fence - with pie crust edge 23cm D & French Arrers Opalescent Bowl 24cm D (both chips to rim) |
| 344 | Group lot - Modern Australian Studio Pottery - large Alison Cooper Bowl, Ric & Judy Pearce Vase, Tony Barnes lidded Pot, etc - all pces signed - Alison Cooper bowl 26cm Diam |
| 345 | Group lot of Vintage ceramics incl Royal Bayreuth Twin handled vase, Royal Standard Aust Flowers Wattle Pin dish, Japanese Otagiri Rabbit lidded box etc |
| 346 | 2 x Pces Modern Australian Pottery & Glass - Large pottery shallow bowl w Female Nude decoration signed CR to base & Art Glass Bowl w mottled colours to triangular base signed with initials WR - pottery bowl 36 5cm Diam |
| 347 | Terunobu Hirata Australian studio pottery brown oblong slab platter - sgd to base 58cms L 30cms W |
| 348 | Vintage c1906 Royal Doulton Series Ware Motoring theme cabinet Plate by George Holdcroft - 265cm Diam |
| 349 | 4 x Wedgwood Jasperware items incl White on Black lidded trinket box & dish, teal twin handle bowl & blue dish - all with Classical scenes |
| 350 | 1930s Australian Table Cricket game - 12 lead figures, 2 balls, green cotton pitch - maker G Jupe, Eastwood, NSW - box tatty |
| 351 | 3 x Vintage Aust Pottery Red & Green Wall Vases incl Hollywood & Pates |
| 352 | 2 x Art Glass vases - Caithness heavy cased Red & Black (tiny chip to rim) + Turquoise Bottle shaped - 26 & 31cm H each |
| 353 | 5 x Retro West German Pottery vases & Jug - Earthy toned & other Fat Lava Glazes, tallest 21cm H |
| 354 | Original boxed Nefertiti 16 Scale Action Figure by TB League w Seamless body with Metal Skeleton & Accessories incl Hands, Scepter, Base etc |
| 355 | 2 x Pces Carnival Glass incl Green Grape & Vine interior - exterior pattern bowl (chip to collar base), Fenton Marigold Tri Footed Bowl - Little Fishes pattern 25cm D |
| 356 | 2 x Pces Modernist Ceramics incl Arabia Finland Ruska ceramic Teapot with infuser & English Bourne Denby Danesby Ware Art Pottery vase - Cylinder form approx 20cm H both marked to base |
| 357 | Victorian Brides Basket - EPNS holder with Austrian white & pink milk glass bowl, hand enamel floral decoration, approx 32cm H |
| 358 | 3 x Vintage Cut Crystal Perfume Bottles w Stoppers - Largest is Approx 11cm |
| 359 | Vintage Gilt framed Art Deco Print in the style of Maxfield Parrish - 50x39 5cm |
| 360 | Art Deco German Kaufmann Leather Travelling Toiletry Case - Yellow Lucite with black trim contents - Outer case with internal lift out tray which converts to a case (missing comb & buffer) with orig label Outer Case 55cm L |
| 361 | Justin Mathieu (1799-1864) Pair Framed 19th Century Meerschaum Bas Relief Plaques - Saint Louis with his Troops against the Saracens + Saint Louis with the Crown of Thorns in the Santa Chapelle in Paris - both signed Justin - approx 21x33cm each |
| 362 | Royal Doulton Elephant Figure HN2644 11cm H |
| 363 | Vintage Wedgwood Porcelain figure from the Classical Collection 'Adoration' - all marks to base - 31cm H |
| 364 | 3 x Retro West German Pottery Vases - various shapes, Red Orange Coloured sections on each, tallest 20cm H |
| 365 | Art Deco Signed Orrefors Crystal Decanter - Square with octagon neck & hexagon stopper - Etched details to base 19cm H |
| 366 | 3 x Art Glass Elephant figures incl 2 x Kosta Boda Flat Back 14cm & 9 5cm & Czech Rikaro Blue & Pink with trunk up 12cm H |
| 367 | 1st Edition book - Art Glass from Murano 1910-1970 - by Marc Heiremans, Stuttgart 1993 Arnoldsche |
| 368 | 1980s Rosenthal Studio Line Bowl - Memphis style decoration by Dorothy Hafner - signed to interior of bowl & all other marks to base - 205cm W |
| 369 | 2 x Pces Glass incl Orrefors bowl with etched circles pattern 24cmD & Royal Copenhagen Crystal Hour Glass decanter with stopper 32cm H |
| 370 | Victorian Oil Lamp - Brass base with teal green glass font with cylinder chimney 45cm H |
| 371 | Bolton Ware Hand-painted 3-piece China Tea Set, Made in Japan |
| 372 | Large Vintage Oriental Watercolour Scroll - Scene of a House with various rooms, figures, fish pond, Men on horseback in the background, etc - amazing fine detail, character marks sighted in various places - approx 103x59cm |
| 373 | 2 x WW1 Paperback More Fragments from France Comic Annual by Captain Bruce Bairnsfather |
| 374 | Vintage c WW1 Grimwades Cabinet plate featuring a Comical WW1 cartoon by Bruse Bairnsfather - Where did that one go to - 23 5cm Diam |
| 375 | 3 x Vintage Carved Ebony Elephants incl Wall mountable 19cm H & Two standing 21cm H |
| 376 | Vintage Beswick Cairn Terroir Dog with Ball - Model 1055A 10 5cm H |
| 377 | Pair of Newtone Australian Pottery Vases - with Green & Brown Glaze, marked to bases - 13cm H each |
| 378 | 3 x Vintage cWW2 Aluminium Trench Art Model Aeroplanes - B-17 Flying Fortress mounted on Ashtray (loose) + 2 x P-38 Lightnings with spare clear perspex Propellers |
| 379 | 2 x Royal Doulton Figures - When I was Young HN3437 & Grandpas Story HN3436 - both approx 15cm H - Designed by Pauline Parsons 1994-2000 w boxes |
| 380 | 1930s Novelty Chrome plated twin pack card caddy - Victorian Style man pushing cart - 15cm Wide |
| 380.1 | Vintage 1930s Bohemian Art Deco Amber Flash cut Glass Perfume Bottle - 16cm H |
| 381 | Set of 3 c1990's Copies of Carlton Ware ceramic Guinness advertising Flying Toucan Wall bids - all bearing Carlton ware marks but not made by Carlton ware, tapering in size, largest 26cm L |
| 382 | 2 x Pces English Pottery incl Moorcroft Magnolia Pin dish 11cm D & Torquay Ware Bowl Boat & House river scene 11 5cm D |
| 383 | Vintage Cobalt Blue Glass Vase w Silver Overlay decoration, classical shape - Approx 29cm H |
| 384 | Vintage Larry Laslo Art Glass vase for Mikasa - Purple colour, folded top, ground pontil - 15cm H |
| 385 | Pair Of Czech Rikaro Art Glass Angel Fish - clear black & brown with coloured inclusions, approx 20 - 23cm H |
| 385.1 | Vintage 1930s Bohemian Art Deco Perfume Bottle - Clear w Amber Coloured sections, Starburst shaped - 18cm H |
| 386 | Vintage c1950s Sylvac English China figure of a Stylised Siamese Cat - label to base, 16cm H |
| 387 | Art Deco Spelter Dancing Girl figure on circular marble base 20 5cm H |
| 388 | Large John Gilbert Australian pottery footed slab platter - dark brown glaze with impressed letter decoration - 39cms W - sgd to base |
| 389 | 1950s Plaster ware Gnome figure - Seated & Resting VGC 36cm H |
| 390 | 1920s Figural Golfer Car Radiator Cap Mascot - hand painted cast metal, approx 19cm H |
| 391 | 1960s Geraldine Gee Doll - Gerry Gees sister in her original Cowgirl outfit - manufactured in Carlton by Sterne Doll Company, approx 55cm L |