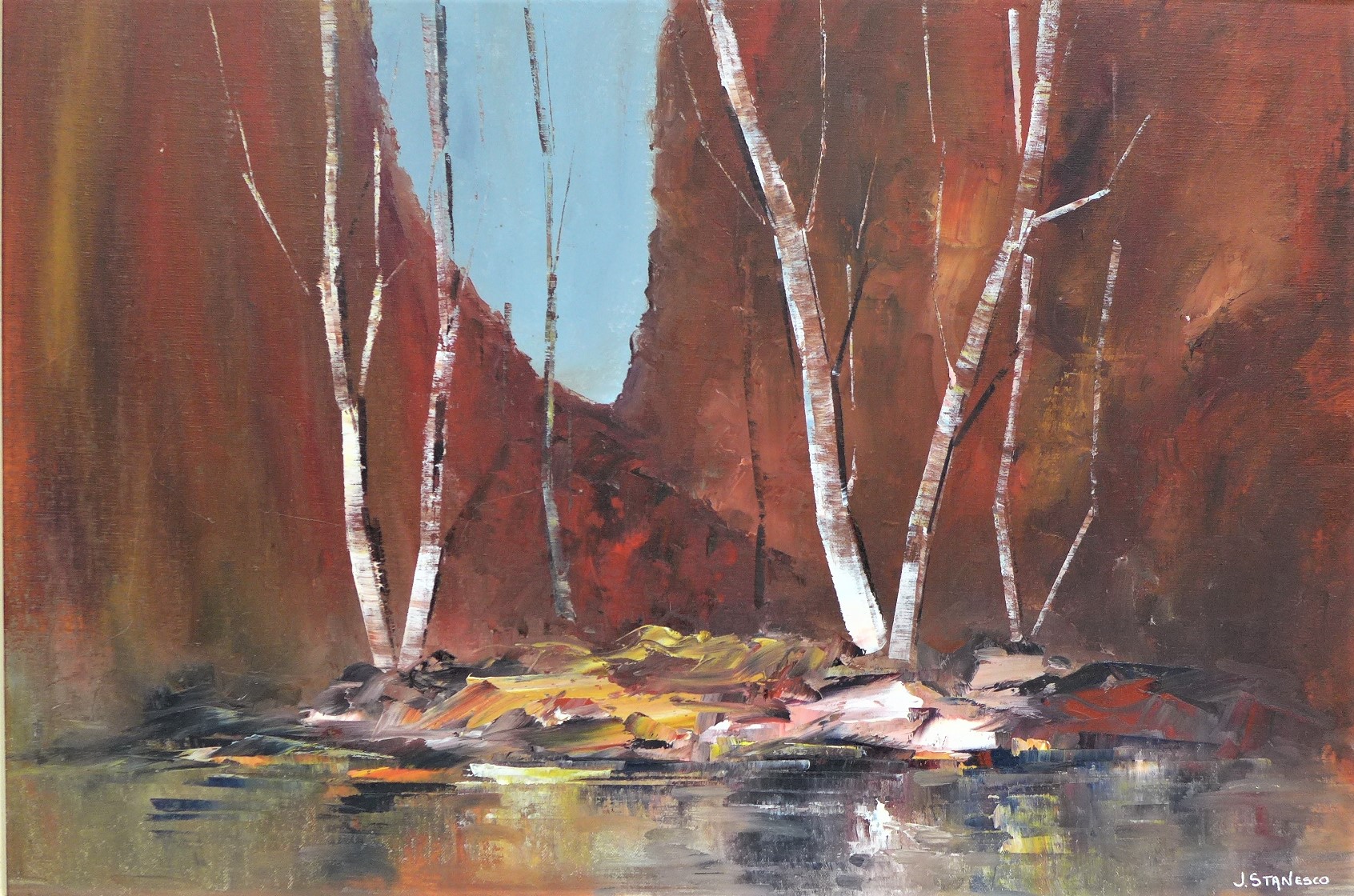 PLEASE NOTE:  The catalogue is updated on the Wednesday prior to Thursday's auction.
CONDITIONS OF SALE

VIEWING TIMES

Wednesday  12  – 6pm
Thursday     12 – 6 pm
Auction starts 6pm Thursday
Auction conditions of sale
Payment by credit card, eft or cash
Goods to be paid for prior to collection.
Late payment will incur a $10 fee.
24% buyer premium (+ Invaluable 5% if applicable) + GST applies
1 % charge on Credit Card and Eftpos
Goods to be collected by 6pm Friday after the sale
The Collector recommends the services of Pack & Send Caulfield.
Email: caulfield@packsend.com.au
The Collector does not accept liability for the acts or omissions of contracted third parties.
Please email us for further information – info@thecollector.com.au
| lot_no | Description |
| --- | --- |
| 1 | Vintage Japanese tall Hall table - traditional shape, Lovely wood grain 89cm 13 |
| 2 | Vintage Ebonised Japanese Side Table - traditional design with Mother of Pearl inlaid Blossom design to top |
| 3 | Large 2 piece Garden Bird Bath Planter - Concrete - Column base - Large round top 87cm H |
| 4 | Edwardian Blackwood Hall Stand, very tall with bevelled mirror, hooks, two drawers, drip tray for umbrellas, in good original condition, 232cm H, 77cm W, 41cm D |
| 4.1 | 2 x Decorative reproduction items incl Franklin Mint Alexander Graham Bell phone & Rotating World Globe |
| 5 | Vintage Japanese Wooden Kimono Rack - Approx 136 cm H |
| 6 | Teak Veneer DISPLAY Cabinet - Mirror back - glass sides 165cm H x 102cm W |
| 7 | 1980's glazed Dark stained bookcase - adjustable shelves - 202cm |
| 8 | Mid Century Modern Style 3 Fold Screen Room Divider - Dark frame with lighter Cane pierced panels - approx 160cm H |
| 9 | Vintage Oriental StoolStand w Red Stained Wood - Approx 45 cm H |
| 10 | Vintage cased c1900 Quack Medicine Electric Therapy machine - I Heal generator, known as the Elixir of Life - made in London, with all Glass attachments & extras - working |
| 11 | Round Purple Glazed Ceramic Garden Pot - raised band detail - 38cm H |
| 12 | Box lot ladies clothing mainly skirts, jacket, scarves etc |
| 13 | 3 x Sewing items inc, vintage wooden cased electric Singer Sewing machine with booklets (ex con), Janome Overlocker, etc |
| 14 | Box lot of Mixed Items incl Sun-Beam Mix-Master , Large Retro Thermos , Esky , Board Games etc |
| 15 | Wooden Victorian Style Five Tier Corner What-Not |
| 16 | Box lot of Mixed Books incl Reference Books , Coffee Table Books , Books on Stalingrad , Gallipoli etc |
| 17 | 4 x 118 Scale Model Diecast Sports Cars incl 1990 Lamborghini Diablo in grey body (Burago), Ford GT90 in white body (Maisto), Lamborghini Murcilago in yellow body (Burago) and a Ferrari in pearl body (Hotwheels) |
| 18 | Group lot - Glass & Crystal inc Lustre hollow stemmed champagne glasses, crystal lidded trinket dishes,, bowls etc, hand painted small pot, crystal Swarovski style animals etc |
| 19 | Framed 1983 Watercolour - The Lookout Point - Signed & dated 83 lower left, further details lower right but illegible - 29x44cm |
| 20 | Group lot - 2 x Academic Gowns, blue & black, mortarboard, accessories, Monash Uni |
| 21 | Box lot of Ladies scarves, clothing skirts etc |
| 22 | Vintage Wooden Box Lot incl Cut Crystal Decanter , Ceramic Cat Doorstopper , Vintage Trinket Box |
| 23 | Group lot of new unopened bedding, sheets, pillow cases, doona cover, single, double bed etc |
| 24 | Large box lot ladies scarves, material, cotton, wool etc |
| 25 | 4 x Boxes inc Lacquer ware, boxed glass bill mugs, trays, bowls etc |
| 25.1 | Grp Lot of Blokey Items & Hardware incl Books on Churchill , Hardware , Rope , etc |
| 26 | Large Group Lot of Tools & Hardware incl Makita Circular Saw , Large Leveller , Power Drill , Hardware etc |
| 27 | 5 x Model Diecast Cars incl a 118 Scale Mercury Eight convertible in burgundy body (Lindberg), 3 x 143 Scale Cars (2 x MG F and a Jaguar Type E) in red body, and a 132 Scale Mercedes SLR McLaren Roadster (Burago), vgc |
| 28 | Box lot of Car Badges, mostly plastic, incl Mercedes Benz, Holden, Audi etc |
| 29 | Box lot of LP Records incl Pablo Cruise, Burton Cummings etc |
| 30 | Mixed group lot inc pottery - W German Tan & Blue glaze vase, log vase, Commemorative royal coin, Sculptured lamp with shade etc |
| 31 | Large Grp Lot of DVDs , DVD RacksCases & Games incl Alien , Indiana Jones , Predator etc |
| 32 | Large Group lot of Vintage & Modern Tools , Hardware & Fittings incl Precision Tools , Tape Measures , Door Fittings , Bolts , Files , Nuts etc |
| 33 | Group lot - assorted vintage items inc, 1960s and 70s single bedspreads - gold brocade style, etc, ladies clothing, etc |
| 34 | 4 x Boxes mixed items inc pottery, glassware, cookware, large glass bowls, mugs etc |
| 35 | Grp Lot of Lighting incl Lamps , Lamp Shades , Bedside Lamps etc |
| 36 | 2 x Boxes of Mixed Items & a Shaggy Floor Rug incl Oil Lamps , Plastic Viking Helmet , Vintage Thermos , Glassware etc |
| 37 | Group lot Eastern carved items inc adjustable book shelf, coat racks selves, lidded hinged box etc |
| 38 | 2 x boxes - assorted items inc, glass figures, plaster ware statue of Virgin Mary, china, ornaments, framed print, tapestry, etc |
| 39 | Group lot 0f vintage cast iron items inc, heavy sad irons, lace and collar sad irons, trivet, etc |
| 40 | 3 x boxes mixed items inc Crystal, EPNS, china ornaments, miniatures, pottery etc |
| 41 | Large Group Lot of Mixed Items incl Books , Bags ,Ephemera , Glassware , Pottery , Metalware etc |
| 42 | 2 x Boxes of Mixed Items incl Cartoon Network Themed Drinking Glasses & Musical Jewellery Boxes |
| 43 | Box lot ladies clothing mainly pants, jackets etc |
| 44 | Box lot mixed items inc Vintage Belgium Billiard balls, Leisureway Snooker Balls, Signed Peter Hudson small display football, Military Books, Antique & Collectables Magazines, cutlery etc |
| 45 | 6 x Boxes of Mixed Goods incl Ceramics , Cut Crystal , Homeware , Stoneware Jugs etc |
| 46 | Large Lot of Vintage Wooden Moulding , Plow & Carpenters Planes incl 1900s Brass Reinforced Plow Plane w Stamps , Moulding Planes etc |
| 47 | 4 x Vintage Indonesian Batik Pictures - Large modernist 'Umbrella' signed Kuswadji & dated 78 + another with Traditional Gods, Goddesses & Deity scene |
| 48 | LG Audio system - 3 CD changer and twin auto reverse tape deck FFH-886 with Xtremo 4000 speakers |
| 49 | 4 x boxes mixed item inc English china - Royal Doulton, ornaments, crystal,, pottery , cutlery etc |
| 50 | 3 x Heavy duty Padlocks with keys inc vintage Templebar Black with Brass lock casing, hammered metal and vintage style Batavia Brass padlock |
| 51 | Box lot of Costume Jewellery incl Natural Stone Bracelets , Necklaces , Pendants etc |
| 52 | 3 pces vintage blokey items inc Packaged Rolls Razor - Made in England, Spanera Havana Cigar Tin, Henri Wintermans - Holland High Glass Cigar box |
| 53 | Group lot costume jewellery - Cloisonne fish pendant, carved mop floral brooch, rhinestone drss clipbrooch, pink gemstone necklace, floral brooches, Galleon pendant etc |
| 54 | 5x Vintage Pocket knives inc German Whale Brand with Mother of pearl handle & 4 x with ivorine handles |
| 55 | Group lot vintage gemstone jewellery - necklaces, brooches, pendant, bracelets |
| 56 | 2 x stone carved figures inc erotic couple 15cm & face figure with curved horn 15cm |
| 57 | Group lot vintage silver jewellery, bangle, opal pendants, bracelet, brooch |
| 58 | 2 x early 1900s British Made black enamel painted cast iron Bully Beef can openers in the form of cows |
| 59 | Box lot of costume jewellery inc necklaces, pearls, Skagen (Denmark) Quartz women wristwatch, polished stones etc |
| 60 | 40+ assorted advertising swap cards inc, motoring, lighting, paint, radio, etc |
| 61 | Group lot vintage costume jewellery - black jet necklace, 50s earrings, diamante brooches, filigree brooches, ring, enamel pendant, red stone brooch, etc |
| 62 | Lot of Vintage Australian & New Guinea Reference & History Books incl Portland 1800-1920 , Broken Hill & Back , History Books on Australia & Papa New Guinea etc |
| 63 | Mid Century Modern White Painted Desk w Unusual Slim Design |
| 64 | 2x pces Occasional furniture inc vintage Gypsy table Bamboo legs - wicker 8 sided table & 1980s Queen Anne style coffee table with protective glass panel to top |
| 65 | Vintage SANSUI Stereo System in Cabinet w Speakers incl Direct Drive Turntable , Cassette Deck , Graphic Equaliser , Tuner & Pair of Floor Speakers |
| 66 | Vintage Pedigree Blue & White Vinyl Pram w Cyclops Wheels |
| 67 | Vintage Art Deco Wooden STC Radiogram w Turntable & Radio - As Found |
| 68 | Group Lot of Mixed Items incl 2 x vintage timber painted cottage chairs , Vintage Novels w Original Dust Jackets , Small Two Door Drop side Toaster & Desktop Radiant Heater |
| 69 | Modern Diamond Back - Viper BMX Stunt Bicycle w Axle Pegs |
| 70 | Group Lot of Mixed Garden Items incl Step Ladders , Garden Gnomes , Shovels , Garden Tools , Cameras etc |
| 71 | Group lot of mixed items, 2 x vintage Sewing Machines in original cases with attachments incl a Singer, and a 'Warmley' electric fire place style Heater from Winterwarm, with illuminated log bed, 63cm H |
| 72 | 6 x Boxes of Mixed Items incl China , Glassware , Playing Cards ,Ceramic Ware etc |
| 73 | 3 x Boxes of Various Die Cast Semi Trailers Vehicles , Cargo & Other Vehicles incl AusPost , NASA , Linefox etc |
| 74 | Box lot of Vintage Packaged Vehicle Model Kits incl Fighter Planes , Ducati NCR Racer Bike ,Blenheim Mk1 Bomber etc |
| 75 | 2 x items inc, 20kg Alvania Shell Grease tin and small lot assorted Anzac badges |
| 76 | Group lot of mixed items incl vintage Qualcast 4-stroke Turf Lawn Mover with roll, heavy AEM Arc Welder, and a huge industrial ceiling Lamp approx 70cm D |
| 77 | Box lot of mixed Kitchenalia and other items incl Swiss Bamix Magic Wand on stand, with all attachments & original jug, working, a set of 6 coloured glass cone shaped shot glasses on ice bucket, Argus slide viewer, 6 x RC Noritake 'Kismett' duos etc |
| 78 | Lot of Electronic Items incl Digitor PR-D13 AMFM Receiver , Coffee Machine etc |
| 79 | Box of Vintage Porcelain & Ceramic Castor Wheels , Glass Bottle Stoppers etc |
| 80 | Group Lot of Vintage Packaged Goods w Contents incl Handy Camper's Stove In a Can , Elastoplast Band-Aids , Boxed Screws etc |
| 81 | Box of colourful woven textile soft furnishings |
| 82 | Group Lot of Framed & Unframed Paintings & Prints incl Pencil Drawings of Winnie The Pooh , Australian Landscapes etc |
| 83 | Group Lot of Mixed Media Music incl Vinyl LPS , Vinyl Singles , CDs , Cassettes etc |
| 84 | 2 x pieces Occasional furniture inc Nest of three coffee tables & timber what knot |
| 85 | Box lot inc vintage amber screw top jars, 2 Bakelite egg cups & pottery |
| 86 | Large wooden toys Chest and contents incl Vintage large Hat Box, and a collection of vintage dolls |
| 87 | Large Group Lot of Fishing Rods , Tackle Boxes & Fishing Accessories incl Approx 11 x Fishing Rods , Vintage Tackle Boxes , Hooks , Line , Various Reels etc |
| 88 | 2 x Tall Burgundy tone Glazed Ceramic Garden Pots - Square shape approx 92cm H |
| 89 | Large group lot inc dolls furniture - bassinets, Childrendolls chairs - dolls, stuffed toys etc |
| 90 | Box lot of Vintage Australian Kids Books incl The Adventures of Snugglepot & Cuddlepie by Mat Gibbs, Grimm's Fairy Tales w Pictures by Holmes , The Black Tulip etc |
| 91 | Box lot of Vintage Blokey Items incl Drill Bits , Button Dyes , Files , Wrenches , Hand Drills etc |
| 92 | 4 x Boxes of Mixed Items incl Noritake Progression Set , Cut Crystal , Stoneware Jugs etc |
| 93 | 4 x Boxes of Mixed Items incl Books , Ephemera , Radios , Alarm Clocks , Glassware etc |
| 94 | Large Group lot of Vintage & Modern Tools , Hardware & Fittings incl Nuts , Bolts , Spanners , Screwdrivers , Wrenches etc |
| 95 | 3 x Boxes of Mixed Items incl Modern Japanese Ceramicware , Pop Up Winnie The Pooh Book , Framed Water Colour Pics etc |
| 96 | Box lot of Vintage & Modern Diecast Construction Vehicles incl Dumptrucks , Diggers , Excavators , Cranes etc |
| 97 | Pair Small Blue Glazed Ceramic Garden Pots with plants - decorative raised central pattern Square shape 30cm H |
| 98 | Group lot - mostly Retro items inc, ornate decorator telephone, Musical clock, guitar shaped decanter, etc |
| 99 | 3 x Vintage Boxed Games incl Wacky Racers , Aurora AFX Model Motoring Rally 500 Race Set & Battery Powered Horse Racing Game |
| 100 | Vintage Painted White Cane Dolls Pram & Contents - Large spoke wheels - dolls, stuffed dog in bag etc |
| 101 | Group lot of pictures & painted inc Albert Namatjira prints, framed Tarpa cloth etc |
| 102 | 2 x Boxes woven furnishing textiles |
| 103 | Modern Indian made Hand knotted woollen rug made for Dakee Australia - 3 Colourful Rectangles - 230x160cm, label to underside of 1 corner |
| 104 | Large group lot glazed terracotta garden pots & saucers some with plants - various sizes |
| 105 | Vintage Carved Teak Chest with lift up top, probably made in Bali from old teak planks, 83cm L 29cm H |
| 106 | Vintage Japanese Open cabinet - sliding recessed doors to top and drawer to bottom - shelving open window to back 86cm H |
| 107 | Vintage Japanese light stained timer Bi-Fold Screen Room Divider - low, approx 100cm H, inset with fine vertical cane, glass panels to top & bottom section with pierced design |
| 108 | Pair vintage 1970s carved teak deers 49cm H |
| 109 | Vintage Japanese Mizuya-Dansu cabinet - 6 sliding doors & 5 drawers - Brass handles - lovely wood grain 107cm |
| 110 | Large Retro Mid Century Modern Japanese 3 Fold Screen Room Divider - Black frame with lighter square shaped pierced plywood panels - approx 200cm H |
| 111 | Group lot Eastern Wooden & Woven Lacquered Baskets inc lovely arts & crafts style basket, Trays, large bowl etc |
| 112 | 2 x Vintage Low Lying Coffee Tables - incl Vintage Oriental Design |
| 113 | Group lot of Animal Figures inc Shell Owls, Dogs, German wall birds af, Zebra, Kookaburra, leather elephant, babushka cats etc |
| 114 | Group lot - vintage English China inc, black with white speckles Sadler tea-pot, HG Wood floral plate, Johnson plates, etc |
| 115 | Group lot of Australian Pottery inc bowl with Aboriginal snake design, bowls, trays, vases etc - some signed to base |
| 116 | 2 x 118 Scale Model Diecast British Classic Cars incl 1961 Jaguar Type E in grey body (Burago), and a 1975 Jaguar XJS in metallic grey (Road Signature), vgc |
| 117 | 3 x 118 model diecast red Sports cars inc, Burago Bugatti 11GB, Hot Wheels 360 Spider and a Maisto Ferrari F50 |
| 118 | Shelf lot Glassware inc vintage stemmed goblets, pedestal cake stands, flared bowl, coloured stemmed wine glasses etc |
| 119 | 3 x 118 scale diecast grey sports cars inc, Revell Italdesign Nasca, Burago Lamborghini Aventador LP700-4 and a Maisto MClarenF1 |
| 120 | Group lot Vintage glass inc Carnival Glass peacock bowl af & 3 x vintage bottles green & clear 1 af |
| 121 | 3 x 118 Scale Model Diecast American Convertible Sports Cars, incl 1957 Fuel Injected Chevrolet Corvette, red body (Burago), a Shelby Cobra 47SC in navy blue (Road Tough), and a 1967 Corvette 427 Sting Ray, white body (ERTL) |
| 122 | Group lot of Japanese lacquer ware incl carved mirror, lidded boxes, boxed calligraphy set etc |
| 123 | 3 x 118 Scale Model Diecast Cars incl Austin Mini Cooper, in black body with white roof (Maisto), a Mercedes-Benz Class A in red body (Maisto), and a Volkswagen New Beetle in green body (Maisto), vgc |
| 124 | Group lot English China - Royal Doulton, Tuscan, Midwinter, Burleigh Ware inc trios, bowls, pin dishes, cake plates etc |
| 125 | Group lot - vintage Peach glass ware inc, jug, stemmed glasses sherry glasses, etc |
| 126 | Group lot of Retro Red Melamine and Plastic Kitchenalia, incl Danish 25L spouted mixing bowl by Rosti, 2 x Capri canisters, a water jug, and a Japanese battery operated General Electric flip clock |
| 127 | Box Lot of Linen & Musical Jewellery Boxes incl Crochet Linen , Piano Shaped Musical Boces , Small Decorative Jewellery Chest etc |
| 128 | Grp lot of Fishing Rods & Accessories incl Very Large Surf Rods , Tackle Boxes , Hooks , Fishing Rods , Line etc |
| 129 | Small Lot of Japanese Items incl Small Black & Red Laquerware Table & Pair of Wide Bamboo Brushes |
| 130 | Vintage carved Black Forest book slide - bears carrying logs to ends |
| 131 | 1920s Cabinet with etched Art Deco glass door (shelves missing) |
| 132 | Pair Rustic Red tall glazed ceramic garden pots - square shape approx 68cm H |
| 133 | Very Large Green Glazed Ceramic Garden Pot - Ribbed & Beehive Shape 68cm H - 63cm D |
| 134 | Vintage Ellis Style Retro Table Lamp w Green Design - Approx 40cm H |
| 135 | Vintage Edwardian style Tallboy Chest - 10 drawers high, small rail to top, lockable latch down 1 side - approx 180cm H |
| 136 | Brass T Bar Clothes rack - decorative heavy base 150cm H |
| 137 | Colourful Eastern woven round footstool |
| 138 | Set of 6 x Retro Mid century Modern Teak Dining Chairs - original 2 toned brown striped velour Upholstery, no marks sighted |
| 139 | Mid Century Modern Day Bed - Blonde wood frame - underneath draw fabric base with cushions on casters |
| 140 | Group lot - Vintage Japanese & Eastern Soft Furnishings - Satin Embroidered Cushions, foot Rests, etc |
| 141 | Neil Savage (1929 - 2000) Large framed Oil Painting - City Scape - Signed & dated 79, lower right, titled verso - 75x100cm |
| 142 | Jayne Henderson (Active c19702000s) Framed Oil painting - Wandong - Signed lower right, further signed & titled verso - 55x75cm |
| 143 | Laurence D Kermond (1918-1984) Framed Oil Painting - On the road to Vaughan Springs, near Castlemaine, where Ball & Welch first opened a Store in 1855 - Signed & dated 74lower left, further signed & titled verso - 295x345cm |
| 144 | Meg Heres (1936 - ) Framed Oil Painting - Blossom Time - Signed Meg & dated 75, lower left - 35x45cm |
| 145 | John Stanesco (Active 195060s) Framed Oil Painting - Trephina Gorge - Signed lower right, titled verso - 50x75cm |
| 146 | Laurence D Kermond (1918-1984) Framed Oil Painting - Afternoon Calm, Silt Jetties, Eagle Pt, near Bairnsdale - Signed lower left, further signed & titled verso - 35x735cm |
| 147 | Frank Mutsaers (1920-2005) Framed Oil painting - White Gums, Coldstream - Signed lower left, titled verso - 395x445cm |
| 148 | Modern Australian Aboriginal Oil Painting Lizards - Signed w Initials LRF Bottom Right , Approx 44cm H x 58cm W |
| 149 | John Mutsaers (1942 - ) Framed Diptych Oil Painting - Coastal & Colours - both signed & dated 70, lowers left - 20x19cm & 55x19cm each |
| 150 | Laurence (Laurie) J Whitely (1929-2004) Framed Ink & Wash - Autumn, Nuggety Creek - Signed lower left, further signed, dated 80 & titled verso - 28x25cm |
| 151 | Max Miller (1940 - ) Framed Colour Aquatint - Creatures - Signed, dated 2000, titled & Numbered in Pencil on Margin - 28x65cm |
| 152 | Tim Bass (1944 - ) Framed mixed media - titled No 35, signed dated 61173 lower right, details verso, approx 22 x 22cm |
| 153 | Group Lot of Vintage Diecast Construction Vehicles incl Diggers , Cranes , Steam Rollers , Dump Trucks |
| 154 | Pair c1900 Gilt Framed Oil Paintings - Stormy Coastal Scene & The Lighthouse - both Unsigned - 18x23cm each |
| 155 | 1 x 118 and 1 x 124 Scale Model Diecast Italian Sports Cars - 1984 Ferrari Testarossa in red body (Burago) on wooden stand, and new boxed Model-Kit Lamborghini Murcilago V12 in yellow body (Welly) |
| 156 | Group lot of 3 x vintage electric Jugs incl a Nielsen Kooka, and 2 x mottled art deco - one af, all with cords inside |
| 157 | Vintage Renault Plate on painted green metal backing, 46cm L |
| 158 | Group lot of vintage stoneware salt glazed tankards floral & deer detail - some signed |
| 159 | Grp Lot of Framed Pictures incl Paintings , Modern Screen Prints etc |
| 160 | 3 x Dolls - black Reliable composition baby 15cms L, AM 3518 K bisque baby, damaged to back neck, comp body & large vinyl Dutch girl |
| 161 | 2 x Boxes of Vintage Diecast Fuel Tankers in Various Sizes incl ESSO , Shell , Texaco , Liquid Nitrogen , Oil Tankers etc |
| 162 | 3 x 118 Scale Model Diecast Sports Cars - Ferrari 330 Maranello by Hot Wheels , Jaguar XJ220 made by Maisto & Viper SRT-0 made by Bburago |
| 163 | Group lot vintage inc Original packaged Flex-straws by Flex-straw Hawthorn - Melbourne, HC Around the world in 80 days & HC Pears' Centenary Edition of Charles Dickens Christmas Books |
| 164 | 4 x 143 Scale Model Diecast Cars and Vans by Solido, incl Mercedes SSKL with cream body, Mercedes SL Coupe in black, and 2 x Volkswagen Combi Vans incl Red Combi Pompier (Fireman), all their in original Perspex display |
| 165 | Group lot of vintage New Zealand and Scandinavian wooden wares incl inlaid jewellery box, turned New Zealand Kauri bowl, wooden trinket boxes and carved platter, marked to the base approx 33cm L |
| 166 | 2 x 118 Scale Model Diecast English Sports Cars inc Blue 1960 LOTUS by Signature & Green MGB GT by Universal Hobbies |
| 167 | Large Group lot of Pretty English china incl royal Albert , Myott Chelsea Bird Ware etc |
| 168 | Retro STC Red Rotary Telephone - Made in Australia |
| 169 | Group lot of Retro Yellow Kitchenalia, incl 70s Salter kitchen Scales with 2 x original measuring bowls, Made in Britain, a German Markutec thermos, 4 x Scandia bowls etc |
| 170 | Group lot of copper and brass items, incl large copper footed bowl 46cm D, copper platter 28cm D, bowls, dishes, letter opener, and a collection of Italian made brass hangers incl Snake hook mounted on Adam & Eve back plate |
| 171 | Group lot of Japanese lacquerware incl pair of Tea ceremony tables, and set of 3 x bowls and lids or saucers, in traditional orange, one saucer af |
| 172 | Small group lot - Vintage Motoring items & ephemera - GM Holden Owner service policy & protective Maintenance booklet, Shell Motor Tours Booklet, Morgans Melb & Suburbs directory, etc |
| 173 | 4 x 143 Scale Model Diecast American Classic Cars by Solido, incl 1950 Buick super in pink body, Chrysler Windsor, 1957 Studebaker Hard-top in green body, and a Cadillac Seville in black body, all their in original Perspex display |
| 174 | HC Book Aircraft of the Fighting Powers, 1943, HJ Cooper & OG Thetford, Published by Aircraft (Technical) Publications, incl large scale fold out technical drawings of aircrafts, with interesting advertising from 1940s, in good original condition |
| 175 | Vintage KRIESLER Model No 11-81 Dark Grey Radio - Made in Australia |
| 176 | 2 x 118 Scale Model Diecast Mustang Cars inc Red 1964 Mustang by Motor Max & Metallic Blue 1968 Ford Mustang GT by Maisto |
| 177 | Group lot vintage Japanese items inc Cup & Saucer with geisha girl pattern, Metal cased cups, salt & pepper, scrolled plate stands, timber bowl stand, engraved fork, brass buddha etc |
| 178 | Mixed lot of vintage Ephemera - 19345 Ferranti Radiant Heater catalogue, West Gate bridge pre paid Toll Vouchers, Nautical Postcards, 1st Studies in Insect Life in Australasia Book, etc |
| 179 | Vintage Tribal 3 bowl sectioned carved Tray - decorative design to base 69cm L |
| 180 | 5 x 143 Scale Model Diecast Australian Touring Racers, incl 4 x Holden Commodores - Greg Murphy's car (1 x Auto Art 3 x Classic Model Cars), and a Ford Falcon - Dick Johnson's car (Biante), all in their original Perspex Display |
| 181 | LP Record Y&T 'Black Tiger' - Australian Pressing, with stickers 'DJ Copy - Not for sale' |
| 182 | Vintage 195060's Black POODLE DOG Radio 32cm L |
| 183 | Vintage heavy c1900 Spelter figure - Boy with armour, shield & spear - mounted on spike (not the original) |
| 184 | 3 x 143 Solido Scale Model Diecast Cars incl Studebaker Coupe , Chevrolet Taxi , Ford Mustang 1946 - All in original Perspex displays |
| 185 | 2 x Vintage Clocks incl James C Huntington Quartz Dome Clock, Made in Germany & Vintage Schatz & Sohne Dome Clock with Torsion pendulum movement |
| 186 | Pair of Vintage wooden Crutches, height adjustable, brass inner plates, 113cm H |
| 187 | 3 x vintage wooden tennis racks - two with original press - Dunlop Maxplay & Slazenger Demon |
| 188 | Vintage Copper and Brass Bed Warmer with wooden handle and hook, good original cond, 116cm L |
| 189 | Vintage metal and fibreglass US Mail Box with red cardinal birds on a pine tree theme, by Bacova, embossed with 'Manufactured by Southern Gemini Taylorsville, MS' - slight damage sighted, 48cm L |
| 190 | 2 x Metal Pieces incl Vintage Metal Scottish Warrior Door Stopper & Painted Decorative Trellis |
| 191 | Group Lot VFL & AFL Football memorabilia - Large & Small Football records inc Grand Final Editions & 2 x block mounted Herald Sun Grand Final Posters Collingwood 2010 & Sydney 2012 |
| 192 | Small Lot of Pottery incl Small Cloisonn Vase, Figural Decanter of a Matador , Ridgeway Plate & Crown Devon |
| 193 | Group lot of Japanese wood and lacquerware items incl 3 x square platters, small table, box, stand, footed bowl etc |
| 194 | Group lot of signed Art Glass incl Caithness Vase, swirl dish signed WR to base and organic form blue vase with applied green tendrils, signed to side but illegible |
| 195 | Group lot - costume jewellery incl boxed Swarovski bling ring, brown leather shoulder bag & Fortune Duck shoulder bag |
| 196 | Group lot inc BESWICK - pair of Pale Blue Glaze dogs Model 454 12cm H, Siamese hanging cat, Mallard duck model 756-1 af & Royal Osborne Beatrix Potter musical ornament |
| 197 | Group lot of vintage Oriental hand painted ceramics inc colourful chintz style plates, teapot, & ball style vase with geisha decoration |
| 198 | 2 x Diecast model roadsters inc 120 scale greyblue Burago Mercedes Benz 500K and a 118 blue scale Burago Bugatti Type 59 |
| 199 | Framed Bug specimen - Malaysian stick insect (Heteropteryx dilatata) |
| 200 | Group lot of Art Deco inc Wedgwood Coffee set - Memphis pattern - Coffee Pot, Duos, Milk & Sugar & Art Deco lady figure |
| 201 | 3 x 118 Scale Model Japanese Diecast Cars - 2009 Nissan GT-R, pearl white body, by Burago Mazda Miata MX-5, white body, by Gate Subaru Impreza in grey body by AutoArt, VGC |
| 202 | 4 x Vintage Art Glass Figueres incl Rooster , Fish - Some Damage Sighted |
| 203 | 3 x 118 Scale Model Diecast Racing Cars - Maisto Mercedes CLK-GTR, Solido Austin Martin DBR9, Jada Nissan 2L - all with advertising |
| 204 | 3 x 143 Solido French Scale Model Diecast Cars incl CITROEN ZX Volcane , CITROEN 15CV 1939 & RENAULT 4CV 1954 - All in original Perspex displays & Made in France |
| 205 | 3 x English Toby Jugs Melwood LE Arnold Elliot of Rugby, Burlington Ware The Singer & Tony wood Jug |
| 206 | Group lot Vintage Japanese Items inc Wall hanging with raised geisha girl, Japanese Fans ,Cloth wall hanging , Hand Puppets, Ceramic Geisha figure & Vintage Tray Geisha girl detail |
| 207 | Large Group Lot - 3 boxes of model Plastic Trucks (and a few Diecast) incl Semi-trailers with advertising (Camel, Pepsi, Coke etc), Concrete Mixers, Trucks |
| 208 | Small Lot of Ricky Gervais DVDs & Books incl The Office , Extras , The Office Script Books etc |
| 209 | Vintage Gilt Bronze figure of Puck - seated, mounted to wooden base |
| 210 | Pair of twin armed brass piano sconces - art nouveau style 21cm L |
| 211 | 2 x 118 Scale Model Diecast American Coupe Cars - 1 x 1950 Ford Custom Deluxe Convertible in red by Maisto and 1 x 1949 Cadillac Coupe de Ville convertible in green, VGC |
| 212 | Mixed Group lot inc Mediterranean bowls colourfully hand painted, Japanese bowls, plates etc |
| 213 | Group lot of Glass Bowls with swirled design - various sizes - pink, black, smoky black & mauve |
| 214 | Small Lot of Vintage Car Badges incl Jaguar , Porsche , Mercedes Benz etc |
| 215 | c1930s Arnott's Round Biscuit Tin marked R Hugues Maker Sydney, people waving at passing carriage, 24cm D |
| 216 | Vintage Advertising French EYQUEM Spark Plug tin |
| 217 | Group lot - vintage Blokey items inc, cast iron hay bail hook with wooden handle, cast metal horse figurine named Beauty, small oil can and an Eden loc k with its key, etc |
| 218 | 2 x 118 Scale Model Diecast Aston Martin Cars, incl 1961 DB4GT Zagato in red body (Road Signature), and a D89 Coupe in burgundy body ((Welly) |
| 219 | 5 x model motorcycles - assorted scales and colours |
| 220 | 2 x 118 model diecast Sports cars inc, Burago blue Lancia Aurelia B24 Spider and a Road Signature grey Aston Martin DB2-4 Mark 111 |
| 221 | Cast iron Money box - smiley face with red hat with Save and Smile Money Box text |
| 222 | Group lot of Jasperware inc Wedgwood Pale blue Oval pin dishes, round pin trays & green glaze salt pot metal lid, tall blue early jug with white relief work |
| 223 | 2 x 118 Scale Model Diecast Sports Cars, incl 1940 BMW in pearl body (Roadlegends), and a 1932 Alfa Romeo 2300 Spider (Burago) |
| 224 | 2 x Pro Engine Tractor Trailer Playset 12 Packs w Various Semi Trailer Trucks |
| 225 | 2 x 118 Scale Model Diecast Ford Mustang Coupe Cars incl 350 GT in blue body with stripes (Universal Hobbies) , and a 1965 Mustang 289 in light blue body (Mira) |
| 226 | Group lot costume jewellery - chunky orange resin, wood & leather necklace, large silver disc necklace, multi silver strands, long tribal style etc |
| 227 | Group lot - model motor road bikes and choppers - assorted colours and scales |
| 228 | Group lot FORD Scale Model Diecasts inc 3 x 136 Ford Pick Ups (1948, 1953, 1995) 124 1960 Ford Ranchero by Motormx & 143 Ford Contina MKII |
| 229 | Group lot 3 x Vintage items incl Ostrich Egg on iron stand 32cm H, and 2 x Shells - a male Spider Lambis and a female Lampis Millepeda - largest 30cm W |
| 230 | Cane basket & contents - costume jewellery, necklaces, earrings, pair 50s mauve earrings in George's box, Florentine box, wallet, lipstick boxes, small embroidered Sth American bag, etc |
| 231 | Box lot of Vintage Tea Towels, mostly Irish Linen, incl LIPTON Tea towel, Piano by Ulster, Lawn Bowls, Paris Metro Map, floral embroidered one, etc |
| 232 | SEIKO Mens Quartz Wristwatch, black dial, model V742-8119 A4, crystal glass, original band, in its original box with paperwork, instruction manual, extra links, vgc |
| 233 | Pair of vintage pressed tin toy airplanes, incl a twin engine with twin fins and a monoplane, largest 12cm W |
| 234 | 4 x vintage Fruit Knife & Pocket knives all with mother of pearl handles inc Fruit knife - Hallmarked London 1878 & 3 small pocket knives |
| 235 | 2 x signed Art Glass inc Kosta Boda Bertil Vallien Vase abstract coloured detail 7 5cm H - Orange paperweight with iridescent block to top - both signed to base |
| 236 | 2 x English Pirelli Glass Poodles - Brown ears yellow tail and puppy - larger with label |
| 237 | 3 x Vintage smoking related items incl IMCO Triplex petrol lighter, made in Austria, a c1950 Permanent match (or everlasting match) Lighter, made in Austria, metal case, and a small metal case marked Germany |
| 238 | 2 x Vintage Smoking items incl Barling's Make (London) Cheroot Holder, model 57, 9cm L, and a retractable Cigar Piercer (or bullet punch), engraved King George IV Whisky and The Distillers Co Ltd Edinburgh, working, approx 6cm L |
| 239 | 5 pces costume jewellery - filigree Butterfly, Floral, turtle brooches set with green stones, Jadeite Elephant pendant & Abalone shell Brooch feat Aborigine |
| 240 | 4 x Vintage Assorted Small Pocket Knives inc Mother of pearl handles, Damasini, Antler style etc |
| 241 | 2 x Vintage mixed items incl Cased Cheroot Holder, Meerschaum with Amber Mouthpiece, unmarked, in its original case, approx 9cm L, and a Benzedrine Inhaler with bakelite lids on both ends, 8cm L |
| 242 | Vintage Paua Shell covered Jewellery Box and Contents incl vintage Sterling Silver mounted shell bracelet, 2 x Pairs of paua earrings, and 2 x paua Brooches Box approx 13cm L 8cm W |
| 243 | Group lot of 3 x Vintage Lighters, incl engraved Polo lighter made in England, and 2 x Japanese lighters |
| 244 | 2 x Vintage Advertising pocket knives Thermofort - Port Phillip Rubber Co & Cognac Prunier |
| 245 | 3 x vintage Brooches - Hermann Siersbol Danish silver multi circles, round Micro mosaic & another |
| 246 | Group lot of Vintage advertising items, incl US made Ainslie's Whisky bottle opener, Eagle Lead holder pencil, numbered 861, with spare leads in wooden case, and a vintage Lipstick pomade dispenser by Roger & Gallet |
| 247 | Vintage Murano Millefiori Bird figure with aventurine wings 7cm H |
| 248 | 2 x Vintage Ship related Pocket Knives inc German made SS Orsova with bakelite handle & RMS AQUITANIA with mother of pearl handle |
| 249 | Vintage advertising Brass Pocket knife - The Condor 12 Watt Light Globe - Raised design - made in Holland |
| 250 | 3 x 1930s Art Deco China Half Dolls incl Flapper Torso & 2 x Flapper Girl Heads - All Numbered |
| 251 | 1980s Gents Longines two tone watch - L56493 - with box |
| 252 | Mens ENICAR Oyster Automatic Wristwatch, Swiss 25 jewels day date movement, gold plated and stainless steel case and band, model 21695337, original band, working |
| 253 | Vintage novelty petrol Lighter in the shape of a gun, needs new flint |
| 254 | Vintage Chrome Jaguar Bonnet Mascot, earlier Leaping Jaguar model, marked to the base 10091 WBB, slight pitting on top, approx 20cm L |
| 255 | Carved bone Maori Hook pendant on fine leather |
| 256 | Tumbled Amber necklace - knotted |
| 257 | Group gold jewellery - pair hoop earrings (af), 2 x odd hoop earrings - TW 9 4 grms |
| 258 | 3 x pces vintage Jewellery - silver Marcasite Brooch, silver ring set with brown stone gents 10K gold filled ring set with mottle green stone |
| 259 | Group 9ct gold jewellery - hoop earrings set with crystal, filigree heart bracelet lock & small cross pendant with turquoise - TW 7 9 grms |
| 260 | 2 x pces 9ct gold jewellery - bar brooch set with seed pearls, key & tiny heart & pendant with moonstone - TW 3 5 grms |
| 261 | 2 x ladies 18ct Rings - two tone band & other set with half circles small dias & sapphires - TW 7 4 grms |
| 262 | 3 x 9ct gold rings - 2 x sculptured set with small dias & band - TW 7 4 grms |
| 263 | Vintage 9ct gold Gemex pendant - oval floral open work with green stone - TW 2 6grms |
| 264 | 18ct gold rounded filigree cross pendant set with small diamonds on gold chain - TW 8,6 grms |
| 265 | 1897 Queen Victoria Half gold Sovereign (9167) marked T B with gold pendant mount - link marked 750 - TW 52 grms |
| 266 | Group lot of vintage Amber Glass, incl different size and shape bowls -largest 37cm D, and a bulbous shape vase with chip to the top 14cm H |
| 267 | 3 x swap card albums with contents - cards inc, scenic, advertising, Art Deco, Dogs, florals, motoring related, etc |
| 268 | Group lot Japanese china inc CupSaucer with dog caricatures playing tennis, Fine trio with floral pattern, pair small miniature cups |
| 269 | 4 x Art Glass inc smoky black vase & jug, plum jug with clear handle, leopard style shallow dish |
| 270 | Jim Beam Bourbon Whiskey Decanter - Clermont Supply 1935 Black Ford Truck 36cm L |
| 271 | Group lot Wedgwood Jasper ware - Lilac and Pale Blue on white inc vases, trinket dishes candlesticks pin trays, |
| 272 | 2 x 118 Scale Model Diecast Cars incl a 1965 Chevrolet Corvette Sting Ray in metallic blue body (Maisto), and a Shelby Cobra 427SC in British Racing Green with stripes (Road Signature), vgc |
| 273 | Vintage bottle of Pimm's No 1 Cup |
| 274 | 3 pces vintage China inc Moorcroft speckled Duck Egg Blue Teapot (af) & Jug and German Art deco Coffee Pot Green decoration epns lid |
| 275 | Art Glass Perfume Atomiser - lightly ribbed - ball shape - green cane murine decoration 14cm H |
| 276 | French Mantel Clock Garniture, Porcelain with hand painted blue and ornate gilding - Pendulum stamped JBD (Jean-Baptiste Delettrez) with maker's mark on plate, with key and pendulum, ticking, repairs sighted on clock and garniture, Clock 20cm H |
| 277 | 3 x Australian pottery inc 2 x Remued inc green laze vase ribbed lower section, Brown glaze beaker style vase & Edward Shaw Bowl with etched brown glaze border |
| 278 | 2 x Australian inc Kubasek Schiller copper with enamel detail dish & Celadon glaze mid century dish - both marked to base |
| 279 | 2 x 118 Scale Model Diecast English Sports Cars - 1974 Triumph TR6 with hardtop, black body (ERTL), and a 1965 MGB GT Coupe, blue body (Universal Hobbies) |
| 280 | 3 x vintage Japanese figures inc bobble head donkey with ladybird on rump, Frog, & fawn deer |
| 281 | 2 x 118 Scale Model Diecast English Sports Cars, incl 1957-1973 LOTUS Super 7 with open wheels (Anson), and 1956 Austin Healy, blue and white body (ERTL) |
| 282 | Group lot - Vintage & Modern Art Glass - 7 x Amberina Drinking Glasses & light Purple coloured Bowl with wide flat rim |
| 283 | c1930's Art Deco PARAGON Tea set pale mint with gilt detail - Teapot (af) milk jug, open sugar bowl, demitasse cup & saucers |
| 284 | 1930 40s Aluminium Cannisters - graduating in size - bakelite knobs - flour, sugar, tea & coffee |
| 285 | Vintage green alabaster Ormulu Clock with blue & glided face - 23cms H |
| 286 | Group lot of mixed vintage Comics inc Speed, Sad Sack, Speed Buggy, The Jolly Swagman etc |
| 287 | 2 x Victorian ceramics inc Jug shaped lamp base & original shade - raised man to front face to spout - hand painted gum tree to shade 37cm & Vase with floral detail 26cm |
| 288 | Framed 1918 print of sheet music cover After You've Gone, also signed Agnes King, 29cm H 23cm W |
| 289 | Vintage Brass Bowl w Handles & Oriental Design Featuring Four Dragons to Center |
| 290 | Vintage Canvass Water bag (or Cooling bag) marked Verandah Bag - Monsoon Reg, complete with rope for hanging, in good original condition, approx 55cm L |
| 291 | Solid brass door knocker, maker's mark sighted, also numbered 8037, c1900, 22cm L |
| 292 | c1900 bisque fashion Doll,unmarkerd head poss Jumeau, new bisque body marked Chelsea Rose - 50cms L |
| 293 | Vintage bottle of Corio Special Extra Fine old Whisky |
| 294 | Eastern Mid Century Lacquered Bowl - single gold leaf pattern to front - signed to base 17cm H |
| 295 | Stylised seated brass female nude figurine - approx 24cm H |
| 296 | Vintage Plaster Art Deco Wall mask - lady holding gone tone mask with hands |
| 297 | Vintage Emanual Ungaro handbag - plum pony skin with detachable shoulder strap - pink tag with GU-25 5085, Paris etc |
| 298 | Large ART glass heavy bowl multi coloured with gold infusion 20cm H |
| 299 | 2 x Vintage Advertising TOBACCO Tins inc c1910 - Dimitrino & Co Egyptian Cigarettes Tin & Pioneer Brand Golden Flake Cavendish tin |
| 300 | Vintage bottle of Milnes Specially Selected Whisky |
| 301 | 4 x 132 Model Diecast Valiant Chargers in Blue , Green , Black & White - Models Made by Signature |
| 302 | Group lot Japanese lacquer ware inc Tray with scenic Mt Fuji detail & 7 shallow bowlsplates with central circle detail |
| 303 | 2 x Vintage Scandinavian Ram Redwood Sculpture, unmarked but possibly by Arne Basse (Denmark), 12cm H Together with another of a horse |
| 304 | Italian Mid Century Modern Wall Plaque of Horse - Signed Verso |
| 305 | Allan LOWE Australian Studio Pottery Coffee Pot, brown glaze with green glaze lid, marked to the base, approx 15cm H |
| 306 | Group lot of Australian Studio Pottery by Dyson, incl salt and pepper shakers on side dish, and a miniature cup, jug and sifter set on dish, signed to base, dishes approx 11cm D |
| 307 | 2 x vintage ceramic owls inc Beswick Model 1046 12cm H & 1990's Belleek owl - pale green eyes 14cm H |
| 308 | Vintage Uranium Burmese Satin Glass vase -cream footed base - pink upper section with wavy rim 13cm H |
| 309 | Vintage bottle of Corio Special Extra Fine old Whisky |
| 310 | 118 Scale Model Diecast British Sports Car - Austin Healey Bug Eyed Sprite in yellow body (Revell) |
| 311 | 2 x 143 Scale and 1 x 164 Scale Model Diecast American Sedan Cars by Auto art and Biante, incl Ford Falcon 351 GT, Falcon GT in red with black stripes, and a smaller 351 GT, all in their original display |
| 312 | Vintage Chinese Export Ceramic Vase, intricate enamelled floral design with hand painted scene to the front, 37cm H |
| 313 | SC Book - Clarice Cliff - The Bizarre Affair Pub By Thames & Hudson |
| 314 | Beryl ARMSTRONG Australian Studio Pottery Condiment Set, marked to the base, incl Jug 6cm H |
| 315 | Vintage Art Glass Perfume bottle - Satin finish white with blue spots - clear tear drop stopper 24cm H |
| 316 | Vintage c1980s ART Glass Vase - Round spherical shape, white with applied slip trail design around body in Pink Purple - unsigned, 155cm H |
| 317 | Vintage Art Glass Bowl, with swirl pattern, with pontil mark to the base, 21 cm D |
| 318 | Italian Murano Glass Owl Vase - Ann Primrose design, Green colour - impressed hexagonal design to body, 27cm H |
| 319 | Vintage Amber Art Glass shallow bowl with gold inclusion detail to base 27cm D |
| 320 | 124 Scale Model Diecast Sports Car - Holden HQ 350 Monaro Red Hot (Greenlight) |
| 321 | 118 Scale Model Diecast Car - 1068-1971 Holden Monaro HG GTS Coupe, metallic blue with black stripe (AutoArt) |
| 322 | 1950s Yoshiya Japanese Wind-Up Tin Toy Robot w Clear Front to See Mechanism - Marks incl KO - Approx 22cm H |