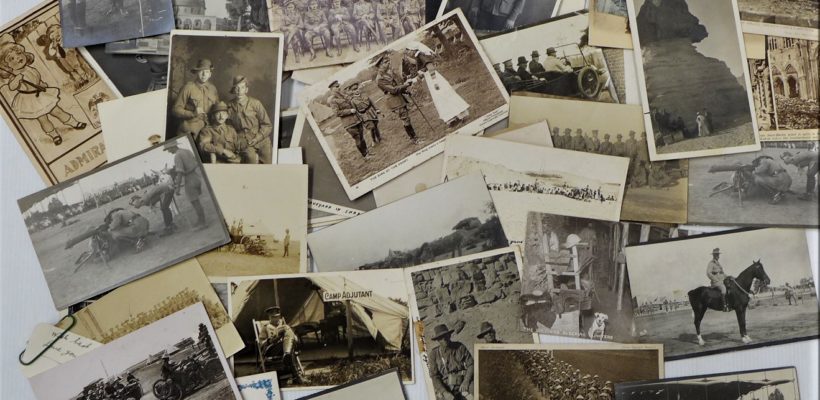 The last few weeks have seen lots of new faces and happy buyers and sellers.  It's been great getting back to some sort of normal.  Let's hope it continues!
Auctions have included  several collections and some  interesting items from deceased estates.
The sale rate has been high along with high prices paid for collectables and antiques.
Here are some results –
| | |
| --- | --- |
| | |
| Name | Price |
| WW2 PoW Aluminium Identification Disc, engraved with Japanese character and impressed with the Australian Army service number VX45273 : Major Julian Johnstone Searby, 2/9 Field Ambulance and prisoner of war, Changi, Singapore, 1942-1945. | 397 |
| Approx 60 x WW1 Postcards mainly Australian forces - Gunners, Col Arnott, Light Horse, Indian Lancers, Trenches, Motor Machine Gun Corp, Shrapnel Gully graveyard, Sleeping Quarters, nurses, heaps info on back etc | 652 |
| 10 x c.1911 Hand painted Postcards by M Lawriney - all of various Australian Native Birds - Sulphur Crested Cockatoo, Leadbeaters Cockatoo, Crimson Wing Parrot, Parrakeet, Love Bird, yellow breasted Parrakeet, etc - all signed & titled under images | 683 |
| 2 x c1930s Coronet Midget Cameras - mottled green Bakelite & Black Bakelite - with case & box both a/f | 174 |
| Box Lot of Vintage Vinyl Jazz LP Records incl Charles Mingus , PLAYBOY Jazz All-Stars , Missa Luppa etc | 397 |
| 2 x Royal Doulton Figures inc Reverie HN 2306 & Meditation HN 2330 both designed by Peggy Davies 17cm & 15cm H | 174 |
| 1/18 Scale model Diecast - Holden Commodore SS VT - by Classic Carlectables | 112 |
| Large Group Lot 1 x Shelf of English Motoring Books incl 'Jaguar C-Type & D-Type', 'Vauxhall The Post-war Years' etc | 348 |
| Mid Century Modern 2-3 seater armless sofa - stylish teak frame, original fabric sighted under current upholstery | 199 |
| 1/18 Scale Model Diecast Car - 1977 Holden Torana A9X SS Hatchback in Black - Model Made By Autoart | 124 |
| Box lot of Vintage Aircraft Gauges incl Fuel Gauges ,Oil Gauges , Oxygen Cylinder Pressure Gauges etc | 323 |
| 1930's Lead Horse racing set - Differing coloured silks to jockeys - lovely patina - with metal racing barrier | 373 |
| 1950 KALOS Miniature camera - gc | 298 |
| 2 x Boxes - Vintage Tools - heaps G Clamps, Pipe cutting tools, saws, pliers, etc | 186 |
| 2 x Boxes of Vintage Vinyl LP Records incl Mostly Classical , Soundtrack , Movie Scores etc | 373 |
| 2 x pces. Vintage brass Chinese bowl with raised dragon & small Japanese bronze vase | 93 |
| 2 x Retro 1960/70s blue cased glass ceiling light shades - rounded lower sections tapering uppers, approx 35cm H | 236 |
| 2 x Retro 1960/70s Orange cased glass ceiling light shades - Pendant shaped | 236 |
| 2 x Royal Doulton lady Figures both designed by Peggy Davies - Coralie HN 2307 & Soiree HN 2312 19cm & 20cm H | 118 |
| Group Lot 1 x Box of Vintage Motorcycling Reference Books incl 'Speed and How to Obtain it', Noel Pope's Full Chat, John Surtees' On Racing, The Book of the Villiers Engine etc | 174 |
| Richard Bogusz (1947 - ) Large Framed Oil Painting - Dragon Fly - Signed lower right, titled verso - 70x75cm | 323 |
| 2 x Vol HC Books 'Australian-Built Aircraft and the Industry' by Keith Raymond Meggs : Volume One Book 1 & Volume One Book 2 : 1884 to 1939, 734 pages with illustrations, Seymour, Vic. : Finger Four Publishing, 2009. In Slipcase, vgc. | 124 |
| 3 x 1/18 Scale Model Ford Falcon V8 Diecast Supercars incl Cars Driven by Forbes , Bowe & Davison | 199 |
| 3 x Retro 1960/70s Orange cased glass ceiling light shades - sphere shaped and vase shaped etc | 174 |
| Vintage 1970s ROTEL Stereo System in Teak Cabinet w Stereo Speakers , AM/FM Tuner , Integrated Power Supply & Cassette Deck | 248 |
| 3 x Retro SCAB Wave Stools Seats w Black Throughout & Tubular Chromed Steel legs - Made in Italy | 112 |
| John F Norton (Active c.1900/20s) Gilt Framed Oil Painting - Sheep Grazing by the River - Signed & dated 24, lower right - 30x82cm | 106 |
| 3 x vintage WASP heavy Rock Vinyl Lp Records - The Last Command, Last Gasp + Self Titled | 124 |
| 6 x 1/18 Scale model Diecast - Souped up & other Jap/American cars with stereos and mags - incl Mustang, Honda S2000 | 149 |
| 6 x Pieces of ROTEL Audio Visual Equipment incl Stereo Control Unit , Powered Amplifier , FM/AM Stereo Tuner , Compact CD/Disc Player etc | 497 |
| Collection Velocette Motor Cycle books includes c1948 Instruction Book, Service Manuals, Spare Parts List, Velocette illustrated reference by Dave Masters etc | 174 |
| 1/18 Scale Model Diecast Car - 1970 Ford Falcon XY GTHO Phase III in Grey w Orange Stripes - Model Made by Auto Art | 161 |
| Art Deco Uranium Glass Float bowl - Josef inwald - Czechoslovakia 27cm D | 323 |
| Box lot of mostly metal Ford Car Badges incl 250 Cubic Inch, Ford Falcon, Fairmont etc | 137 |
| Box lot of Vintage Aircraft Gauges incl Oil Gauges , Oxygen Cylinder Pressure Gauges , Fuel Gauges etc | 248 |
| Box Lot of Vintage Vinyl LP Records & Singles incl Return of The Jedi Soundtrack , 2001 A Space Odyssey Soundtrack , Mostly Soundtracks & Compilations | 124 |
| c1890 Ladies blue velvet double sided travel bag for makeup and sewing implements (5 bone) - silver plate handle and ornate fittings | 149 |
| Pair of Klipsch RF-3 Heavy 150w Floor standing Loudspeakers & Klipsch RW 12 Subwoofer - All Pieces made in America | 652 |
| Small Lot of HO Gauge Trains , Carriages & Rollin Stock incl Commonwealth Railways Diesel Engine , Railways of Australia Carriages , Mobil/Ampol/Shell Petrol Tanks & Crane | 149 |
| c1900 Salters pence letter balance scale No. 11 - copper, metal, ornate base - 18cms H | 124 |
| c1965 Polaroid Pathfinder 120 Land Camera, folding type with collapsible bellows, Seikosha SLV shutter, 127mm, f/4.7, Yashinon lens, leather hand strap, complete with Wink-Light, light meter, type 47 film, instruction manuals, original leather case, vgc. | 186 |
| Charles Moodie (1947 - ) Gilt Framed Oil Painting - Water Lilies - Signed lower right - 37x56cm | 174 |
| Douglas (Doug) Sealy (1937 - ) Large framed Oil Painting - The Old Fence - Signed lower right, titled verso - 82x49cm | 112 |
| Early 1960s Toltoys red & yellow plastic Telephone - in original wrap packaging | 149 |
| Group Lot 1 x Box of vintage woodworking Tools incl 3 x Hand Saws in their leather sheaths by Spear & Jackson (England), Diston (Canada) and another, 2 x hand planes No 4 1/2 Bailey, No 5 1/2 Record, a hand drill, and a set of Gouge Chisels | 273 |
| Group Lot 1 x Part Shelf of Books relating to British Aircraft Makers incl 'Laird - A Legacy of Speed' and others about De Havilland, Avro, Bristol, Airco, Miles etc | 174 |
| Group Lot 1 x Shelf of Australian Motor Sports Books incl 'Half a Century of Speed - Great Australian Motor Sport Photographs 1905-1950s', Phil Irving's An Autobiography, etc | 422 |
| Mid Century Modern Teak Veneer Wall Unit w Cabinets , Drawers & Glass Shelves - Approx 136cm W | 236 |
| Group Lot 1 x Shelf of mixed Motorbike Books incl workshop manuals published by Clymser | 124 |
| Vintage Australian *The Magic Castle* Cardboard kids toy building set by John Sands Ltd - Sydney appears to be complete with sections in plastic bags | 99 |
| Group Lot 1 x Shelf of Mixed Motorcycling Books incl 'BSA Goldie', Sunbeam Motorcycles 1928-1939, 'A.J.S of Wolverhampton', 'Tuning for Speed' etc | 199 |
| Mid Century Modern Teak 7 Piece Dining Suite w Extension Table , 2 x Carver Seats & 5 x Dining Seats | 161 |
| Group Lot of military items, newspaper reprints, self-published WW2 Harry's Story, and a framed WW1 Photograph of Australian Corps in France, dated July 1918, with Lt-Gen Sir John Monash (seated), and Brig-Gens Foote, Carruthers, Blamey, Frazer, Coxon. | 137 |
| Group Lot of Tools incl Britool Socket Set, Made in England, looks complete, cased and a Stahlwille Socket Set, made in Germany, sizes 10-22, complete, cased. | 273 |
| Lot of Vintage 8-Track Player & Heavy Rock Tapes incl Marshall SV-450 8-Track Player , Solid State Cartridge Tuner , Led Zeppelin I , Let it Bleed by The Rolling Stones , In The Court of The Crimson King , Deep Purple , The Beatles , The Who etc | 118 |
| Group Lot of US Hot Rodding Books incl 'Chevrolet Speed Manual' (1951), Dean Batchelor's 'The American Hot Rod' etc | 149 |
| Vintage English Hammersley & Co Tea Set Rose pattern with gilt trim - Trios, Cake Plate, Milk & Sugar VGC | 186 |
| Group Lot of vintage Tools 2 x Boxes and Toolbox incl Craftsmen Expendable Metal Toolbox , Spanners , Hand Planes , Hardware , Mallets etc | 273 |
| Large Group Lot 1 x Shelf of British Motorcycling HC Books, reference books incl AJS and Triumph workshop manuals etc | 472 |
| Long strand knotted graduated Cherry amber bead necklace - approx 90 cms L | 348 |
| Mid Century Modern grained Teak nest of 3 tables - stylish slender design with tapering legs | 199 |
| Mid Century Teak Veneered desk on tapering legs with 3 x lower drawers and upper compartments,(some loss to veneer noted) approx 96cm H 82cm W 44cm D | 174 |
| Mixed Lot of Holden car Badges incl 186, Special, emblems etc | 137 |
| William Ernest Maurice Fletcher (1924-1983) Framed Oil Painting - Fruit, Drumsticks, Glory Pea, Fruits & Flannel Flower - Signed lower left, titled verso - 25x30cm | 199 |
| Modern Fire Safe w Keys , Paperwork & Combination - 30cm H x 33cm W | 112 |
| Sam Schoenbaum (1947 - ) Oil Painting on round wooden panel - Mask of Time - Signed, titled & dated 2004, lower right, also signed & titled verso - 44cm Diam. | 161 |
| Small Lot of HO Gauge Victorian Railway Locomotives incl Double-Ended Diesel Engine | 186 |