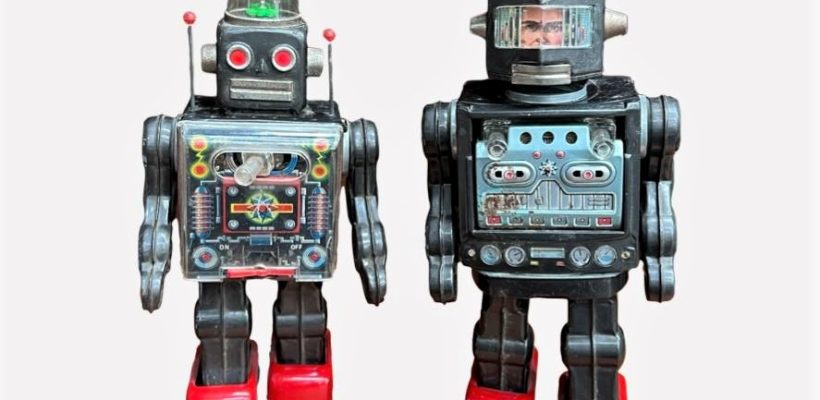 We will be auctioning a wide variety of collectables and antiques this week and included are:  two 1960s Japanese tin toy robots, Federation flag, wine cabinets, 1920s Mt Kosciusko tourist poster, African tribal loin cloth, tin Ampol oil funnel, Stuart Surridge cricket bat, coloured Genie bottles, 1950s and 60s dresses, LP records, Syd Barrett, Nick Cave, Rodrigues, Robur teapots, Murano glass, secretaires, chests of drawers, wine racks, Georgian sampler,  Spode dinner set, Keith Murray mug, Tasmanian Aborigine brown rice shell necklace, 1920s 9ct gold butterfly wing brooch, black opal gold pin, Marcasite jewellery, silver jug, brushes, framed football cigarette cards, stamp albums, coins, art glass, Doulton, Wedgwood, Crown Devon musical jug, Dunlop signs, stereo gear, plus heaps of other interesting items.
Art includes works by Lionel Arthur Lindsay, Winfred Austin, Wm Sinclair, Barbara Peak, Jack Raymond Miller, Wm Boissevain, Allan Fizzell plus a pair of well frame Deco Marygold prints and a framed Dali Exhibition poster.
Entries are welcome for upcoming auctions.  Goods can be dropped of on Mon Tues & Fri 10 – 6pm
25 Melbourne Street, Murr5umbeena, 3163.