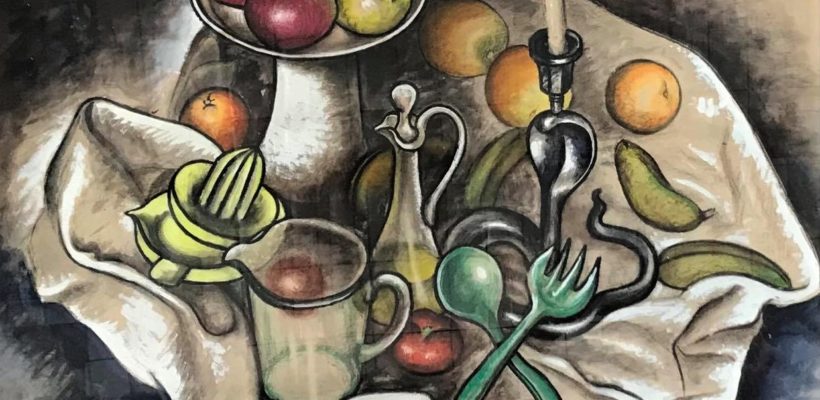 We have been swamped with some amazing collectables and art this week so make sure you check out the catalogue.  There is something for everyone.
Viewing is in our rooms on Wednesday and Thursday 12 – 6pm and we look forward to seeing you.
Highlights include:
Works of Art by: Merric Boyd, Adam Kriegel, Christine Hellier, Nora Foy, Edwin Thomas Dolby, Vincent R Bruno, P F Tunstall, Nevil Drury, WM Henry, Marj Tarling, Carlyle Jackson, Ken Duncan, Ronald Elliott Bull, Rosalia Hall and Wm Henry Vernon.
Decorative Art: Longwy enamel vase, bronze tiger, Japanese Cloisonne charger, large Matthew Larwood art glass bowl, oriental bronze vase, Edwardian plaster figure boy holding tray, Chinese finely carved bone chess set, Bourne Denby art pottery, Bagley uranium glass Cantonese vase, crystal boudoir lamp, Val Saint Lambert coasters, Whitefriars, Murano art glass, tall plaster lamp post with seated boy table lamp, Amanda Louden art glass, Carltonware, fine china  plus Australian pottery by Martin Boyd, Bendigo, Pates, Margaret Holloway and Humphrey's Honey stoneware jar.
Collectables: Telescope periscope, small carriage clock, Victorian marble clock, wall telephone, trumpet, Cherry toothpaste pot, advertising match strikers, Seiko watches, Bond books, workshop manuals, diecast cars, Burago, Maistro, Hot Wheels, cameras, small anvil, tools, Johnnie Walker bar statue and other pubanalia, Ampol gallon tin, framed Sorrento land sale advertisement, collection of pocket knives, kitchenalia, copper jelly moulds, linen, scales, Stereoscope viewer, c1900 Melbourne copper advertising note holder, framed pin-up girl, binoculars, guitars, Ninetendo, tape deck, stereo gear, vinyl records by Divinyls, Skyhooks, Marley, Rockmelons, Little Richard,  JL Hooker, Abba, Skyhooks, and more.
Other: 9ct rose gold cigarette case, T H Brown orange contour shell dining chairs, mcm oak hutch, garden gnomes, concrete planters, birdbath, water font, glazed corner cabinet, rush seat ladder back dining chairs, white bamboo furniture, cast iron bed, toilet mirror, Victorian cedar chest, sideboard, mirrors, table lamps, 1960/70s ladies wear, red fox jacket, mink jackets, stoles, 1950s satin wedding dress, hats, hatpins, gloves and other accessories.
Please view the Auction Information for this week for our current policies to comply with COVID 19. We will be complying with all the guidelines and recommendations advised by the Government.
Auction Catalogue 25 March 2021