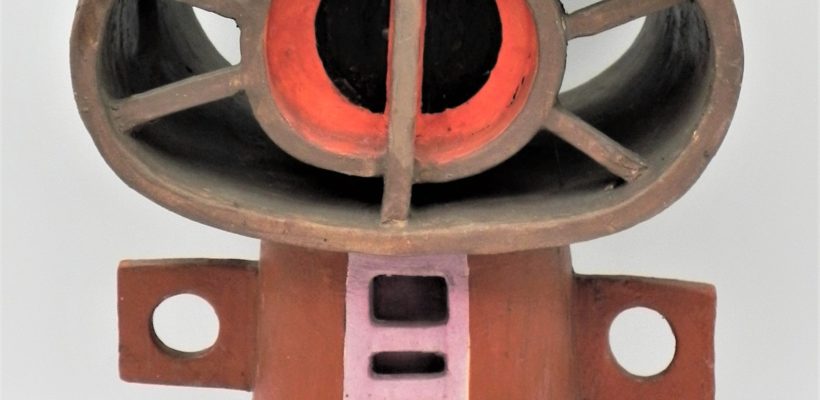 We have some interesting collectables for this  auction and will now be able to offer viewing in our rooms on Friday 6th November from 12 noon until 5pm.
We look forward to seeing you.
Please note this is an online auction timed to finish 7pm Sunday 8th November.  We are unable to take absentee bids.
Highlights for this auction include:
Exhibition pieces of Australian pottery by Gus McLaren, plus pieces of Bendigo, Ellis, Guy Boyd, Judie Lorraine, Robert Langley, Vic Greenway, Sylha, Pates and others.
Collectables: Cyclops pedal car, typewriters, gramophones, ophthalmic surgical instruments, fountain pens, commemorative badges, military, WW1 instructional bandage, carded Toltoys Combat Tommy gun and fossils.
Edwardian chest of drawers, stained glass window,  pair of Victorian ladies and gent's chairs, Art Deco bar, occasional tables, sets of Victorian dining chairs and more.
Ephemera includes: 1869 Map of Victoria, Victorian 1867+ Deeds, Leases, 1895 Mining lease, Prince Patrick Hotel, Melbourne city, 1922 VRC Meetings poster,  1950s road maps, worksafe poster, cigarette cards, military books, Australian magazines+.
Georg Jenson, silver Marcasite, gold rings, brooch, 1970s silver and opal pendant and ring and other jewellery, paperweights, Royal Worcester vase, Art Deco Zolnay deer, Awaji, Art glass, Stuart crystal,  Sadler oval 'cottage' tea service, 1960s Midwinter tea ware, floral cups and saucers and silver cutlery.
Works of art by John Brock, Hal Waugh, Victor Zelman, Calvin Smith, Yona Misso, Peter Burns, George Whinnen, Travis Webber, Robert Webber, Gerard Ansdell, J.D. Watson,  Leon Hansen, Nancy Clifton, Mary Allen, Ailsa O'Connor and Japanese woodblocks.
Viewing will be from 12 noon to 5pm Friday 6th November.
Our next Weekly auction will be held in our rooms on the 12th November  and we are now receiving items.
Enquiries – info@thecollector.com.au
Please view the Auction Information for this week for our current policies to comply with COVID 19. We will be complying with all the guidelines and recommendations advised by the Government.
Auction Catalogue (online) 8th November 2020
Auction Catalogue 8th November (online) LARGEFONT