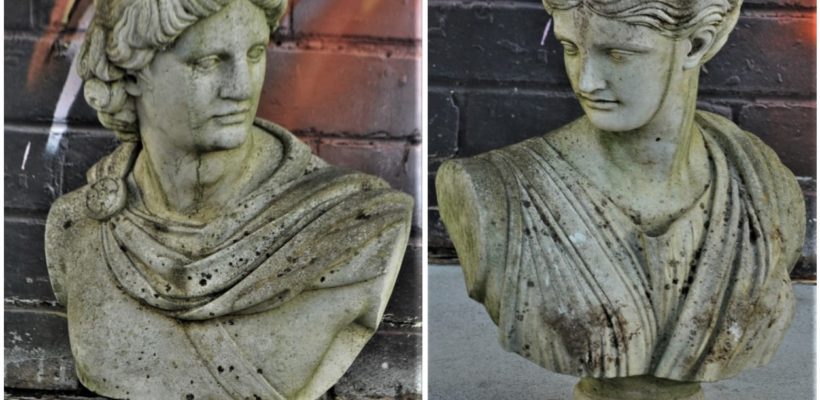 A great mix of collectables are up for grabs this Thursday night with heaps of vintage tools, musical instruments, fine china and Australiana.  Make sure you check out the catalogue.
Highlights include:
A pair of large 1920s hand painted Uranium glass drinking glasses, two concrete classical Grecian busts, 1930s Art Deco Zolnay figurine of deer and fawn, Royal Doulton figurines, Worcester, Crown Ducal, Wilkinson fine china, Bretby art pottery, art glass, wooden hand painted Australian Kauri wall plaques, Australian pottery by Remued, Bendigo, Hoffman, Springmount, Trevor Pitt, Andrew Cope, Arnaud Baraud and Frey Povey.
Vintage hand tools, anvil, planes, Brig marker, hand roller, Railway lights, lanterns, Dental lathe, US flags on poles, US postal wooden hand trolley, shovels, Skil bench grinder, gemstone polishing and tumbling machines, world globe lamp, 1893 Singer treadle sewing machine, Ardmona cardboard advertising sign, milk shake maker, tins, Sharps, Zebo and a large concrete Santa.
1970s stereo equipment, records, violins, mandolin/banjo, Erh Hu, acoustic guitar, microphone, long church pew, 1930s leadlight cabinet, trunks, leather cases, Victorian loo table, long upholstered Victorian stool and occasional furniture.
Works of art by Keith Nicholl, Raymond Wallis, Jenifer Paull, Louis Kahan and others.
Give-a-Show projector, TWA aeroplane, Jolly Swagman goodie bag, 1930s black and white movie stills, Lego, Screen News magazines, Peg Maltby's 'Forever Cuckoo', swap and tea cards, the Art of Albert Namatjira, Victorian Producers Stock and Station Journals, Private eye, Pix, Australian Flora in Art, Australian Art Digest and other books.
The auction starts at 6 pm on Thursday evening and absentee bids need to be in by 5pm.
Viewing 10am – 6pm Wed. & Thurs. 12 – 6pm auction start
25 Melbourne Street, Murrumbeena, 3163
03 95687811/22
Auction Catalogue 12th September 2019
Auction Catalogue 12th September 2019 LARGEFONT