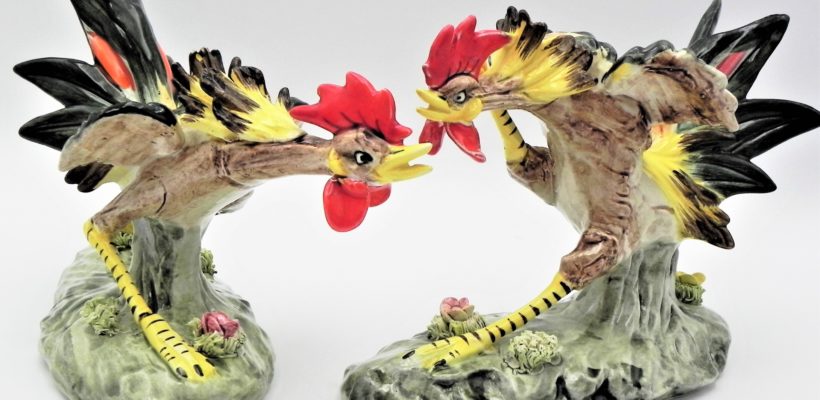 We have some interesting collectables for this auction and look forward to seeing
you.  It has been a long while!
Please note that viewing times have changed as under:
Wednesday 12 – 6pm
Thursday 12 – 6pm
We can accommodate up to 33 people in the room.
You will need to book and pay a $50 refundable deposit to secure a spot.
Highlights include:
Decorative items include:  a retro orange stylised Siamese cat, blue retro alarm clock, Barsony style ashtray, pair porcelain fighting cockerels, Poole pottery vase, Moorcroft, Art Deco glass and china, claret jug, Arabia Ware, Maling Ware, Falconware, Tuscan china,  Carnival, Depression glass and crystal.
Australian pottery by Gus McLaren, Bendigo, Nykel, Gunda, Robert and Margo Beck +
Collectables:  tin toys, Jolly boy money box, footballs, football records, merch., heaps of vinyl records, Biggles books, stamps, accordion, Swan Fountain pens advertisement, Hulk trading cards, soft toys, games, cameras, boxing magazines, wooden toys, clocks, cameras, lab equipment, glass,  binoculars, skateboard, advertising bar statues, bottles, tools,  model yacht, 1930s Argus, WW2 books plus more.
Other items: Silver and tortoiseshell 56 piece dressing table set, gold and opal brooch, silver and costume jewellery, pearls,  sewing items, deer skin rug, occasional furniture, bedside cupboards, lamps, lightshades, couch, brass horn, large canteen cutlery and wall mounted cupboards.
Current Covid 19 restrictions for this auction can be found here
https://www.thecollector.com.au/covid-19-update/