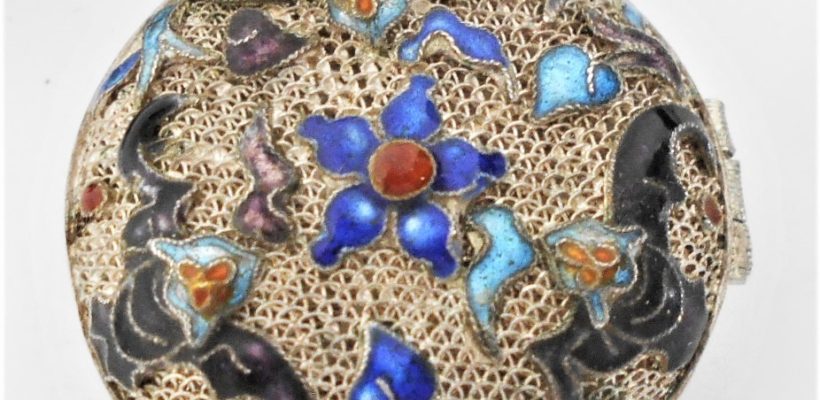 Another eclectic antiques and collectables auction this week including pieces from the Estate of Graham Joel, large collection of estate jewellery, fine china and Australian collectables.
Australiana: Fab tins including Allen's Irish Moss gum jubes, Griffith's Victoria Centenary tea, MacRobertson's, Sweetacres, Pascalls confectionary and others. Silver War Widows guild Kookaburra brooch, pieces of pottery, signed art glass, Chinese ceramics, amethyst Carnival glass comport, A.O.F. honour boards from 1864 and works of art.
Decorative arts: Art Deco Lady lamp base, Hand painted French deco boxes, Japanese large kitchen red gingham cannister set, Lalique, Sabino, Moorcroft, Carlton Ware, Oriental China, Victoriana hand worked hanging picture frame, Royal Doulton, retro ceramics, Art Deco jester and other half dolls, Uranium glass, Murano glass, decorative clocks and spelter figures.
Collectables: Coins, Radios, Cameras, pockets watches, bottles, jars, military, kitchenalia, tribal, toys, Bakelite phones, stereo system, gents Omega watch, bikes, Leggo, Jelly moulds, fans, brass planter AWA picnic radio, Walkman's, Carriage lamps, Sporting plus.
Jewellery:  Palladium sapphire ring, 18ct white gold Doxa diamond cocktail watch, diamond rings, earrings, rub, topaz rings, Victorian heart bar brooch, cultured pearls, vintage silver Marcasite enamel fish brooch, necklace & earrings, brooches/dress clips, bracelet, vintage costume jewellery, coral Bakelite belt buckle, Chinese silver enamel filigree locket etc.
Furniture & Art:  From the Graham Joel estate – Victorian mahogany sideboard, Coalbrookdale style cast iron hallstand, Toilet mirror, decorative sewing box, hall table, Victorian writing box and Art by Neville Caley and Hal Waugh. Other items include two banks industrial metal shallow draw cabinets, piano stool Auto trolleys plus works of art by Frank Carter, Ivaars Jansens and Diane Hitchcliff.
Make sure you view the catalogue.
Our next special auction will be Toys & Ephemera on April 2nd we are now receiving items.
The auction starts at 6 pm on Thursday evening and absentee bids need to be in by 5pm.
Viewing 10am – 6pm Wed. & Thurs. 12 – 6pm auction start
25 Melbourne Street, Murrumbeena, 3163
03 95687811/22
Auction Catalogue 12th March 2020
Auction Catalogue 12th March 2020 LARGEFONT