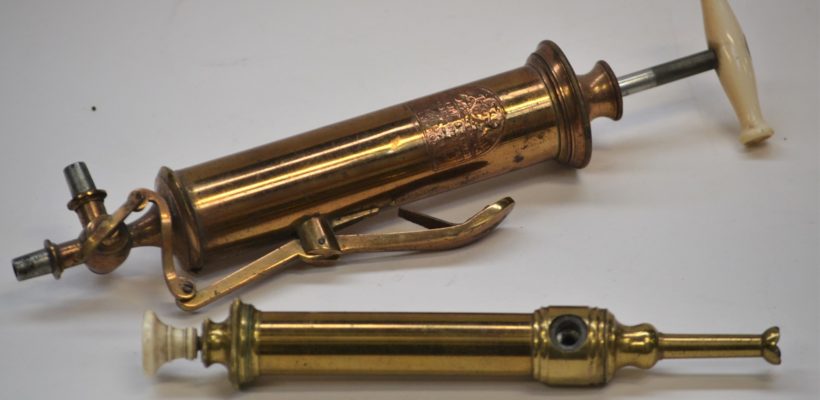 We've had collections rock up, plus heaps of great furniture as well as a huge range of collectables and antiques.
Some great stuff so make sure you check the catalogue.
Highlights of the auction include –
MCM: Arne Jacobsen egg chair, Tessa Fred Lowen settee, pair cane tubular framed rocking chairs, Green vinyl and fabric lounge suite, coffee table, clear plastic mobile record rack, 1970s stool and step stool and a Bitossi Rooster shaped lamp base.
Quackery, medical and apothecary bottles, surgical instruments, c1850 brass piston action syringes, c1880 brass suppository mould, Thermometers, throat spray pump, ointment pots, jars, sterilizer, poison bottles, ceramic inhalers, piercing implements and more.
Victorian cedar day beds, tub chair, corners chairs, wine table, nursing chair and nicely upholstered chaise lounge with armchairs.
Bakelite and colourful retro plastic, advertising ashtrays, trays, candle holders, cigar box, kitchen cannisters and a 1940s bed light.
A collection of WW1 and 2 trench art, 1920s brass electric heater, tobacco tins, tools, cheroot holder, wooden advertising brushes, Vic Rail Goods Checker dust coat, drill press, brass ware, jam pots, flags, stereo gear, lamps, records, Hot City Bump Band, CD,s, cassettes, The Beatles, Beastie Boys posters, Australian artists, guitar, boxed Heco HR speakers, lamps, watches, vintage clothing, clocks and more.
Australian pottery, floor rugs, Swedish and other art glass, Art Deco light shade, Masons, Susie Cooper, Worcester, and other fine china, china invalid feeders, depression and uranium glass, miniatures, willow, Cantonese charger, tribal figure, jewellery and linen.
Meccano and a 1930s clock work motor, Joy Toys rabbit, diecast toys, Hornby clockwork trains sets, comics, Biggles books, teddy and koala bear, Transformers, Snoopy, comics, Pacman, Monkey Kong, card and other games.
Works of art by Hayden, Mark Chen, Dianne Dooley, European artists and Japanese woodblocks.
The auction starts at 6 pm on Thursday evening and absentee bids need to be in by 5pm.
Viewing 10am – 6pm Wed. & Thurs. 12 – 6pm auction start
25 Melbourne Street, Murrumbeena, 3163
03 95687811/22
Auction Catalogue 8th August 2019
Auction Catalogue 8th August 2019 LARGEFONT