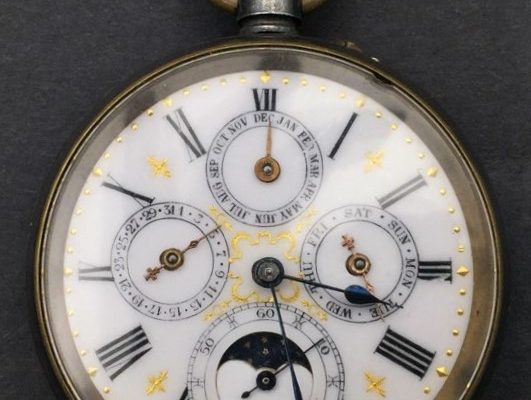 We have plenty of items to excite you in this week's Blokes Shed auction.
From historical 1880 Victorian Railways plans for the Newport Workshop, framed posters for c1915 land sales in Mont Albert and Melrose Heights, a 1950s architectural model of a townhouse, a Morse Code communications computer, WW2 model aircraft, Royal Winton musical decanters and decorative items.
Make sure you check out the catalogue.
Highlights include:
Blokey: Military field telephone, Zenith Trans Oceanic portable radio, Melbourne Fire Brigade jacket, gunmetal moon face pocket watch,  framed signed Richmond F.C  jumper, pilots headset, equipment, 70s racing car jacket, car manuals, CB radios, trench art, military patches, Myrtle Grove tobacco tin, Pennant,  hand tools, circular saw, bench vices, scales, Saints membership medallions, Doulton advertising match striker, Silver MCC plate, 70s car racing jacket, fishing, golf, pubanalia, coins, notes, gold opal cufflinks and more.
Decorative arts: 1930s Grimwades 'Kookaburra' lustre comport. Chinese Silver mug and card case, 1930s Royal Winton musical tankards, Carltonware Rouge Royale 'Spider web' jug, Blue Fenton and other carnival glass, claret jug, Hummel figurines, 50s black cat ceramic teapot, West German pottery vases, Mary Gregory ruby jug, Stuart crystal, Greg Daly plate, Wedgwood Jasperware, bronze busts, Doulton figurine and Whitefriars vase.
Collectables: c1915 framed Mont Albert land sale advertising poster, 1853 voyage ephemera, James, Iggy Pop and other band posters, framed VRC race meet poster, industrial floor lamp, tribal, Cherry butter churn, Victorian cast iron lattice, pendulum wall clock, heaps vinyl records, cd's and audio gear, Coke, computer games, French gallery exhibition posters, men's shirts, hat box, military books, pilots ephemera, tins, packaging, swap cards, Victorian invalid table, 1930s furniture, record player, Washburn guitar and other musical instruments, diecast toys, etc.
Art and Accessories: Sterling perfume bottle, vesta, watch key, money clip. Gold cufflinks, opal gold cufflinks, gold band, 18ct gold Tanzanite and diamond horseshow brooch. Chinese silver filigree card case and Chinese silver mug.
Works of art by Marguerite Misso, Erika Beck, Mollie Lynch, Geo. Devienne, W.R. (Mike) Lyons and others.
Please view the Auction Information for this week for our current policies to comply with COVID 19. We will be complying with all the guidelines and recommendations advised by the Government.
Auction Catalogue 4 March 2021