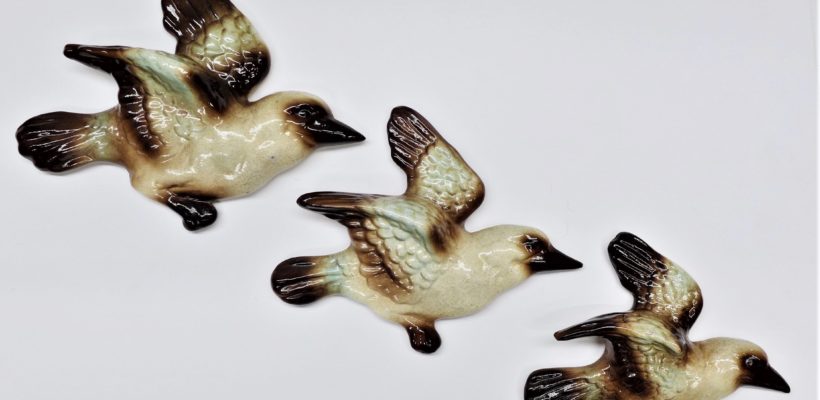 CANCELLED
Due to snap Covid lockdown starting at 8pm.
Will keep you updated. 
We have some great items for auction this Thursday night so make sure you check the catalogue.
There's a huge variety of collectables on offer which include:
Australiana:  Pottery by Regal Mashman, Remued, Gus McLaren, Martin Boyd, Gus McLaren, Vander, Ray Flaver, Juckert, Pates, Bendigo, Nick Auton, Dabid Williams, Ellis, Braemore, Essexware, Fowler , Patrick Lacey, Fletcher, Brunswick and others.  Art glass by Alan Wyatt, Pauline Delaney, Richard Morrell, pair silver plate kangaroo napkin rings, Australian Carnival glass, wall birds, small salemans/advertising Hills Hoist,  Aboriginal items, boomerang,  diecast model cars, trams, Tasmanian Mairneer shell necklace, 1956 Melbourne Olympics china, swap cards, football badges, medallions, cartoon drawing by Weg and works of art by Malcolm Warr, Victor Cobb, Trevor Opray and Nancy Clifton.
Decorative Arts:
Art Deco china, Clarice Cliff, Shelley, Carltonware, Crown Devon, Beswick and other wall birds, figurines, Meissen, garniture lustres, pink, amber Depression glass, pair blue glass Rocket vases, 19thc Enoch Wood bust of Homer, art glass, Orrefors, Wilhem Kralik glass vase, novelty china, huge Myott Asiatic Pheasant dinner set, uranium glass plus heaps more.
Collectables + :
Tin toy Jimmy the trapese clown, dolls, bears, comics, typewriters, Olympics, trumpet, swap cards, LP records, fountain pens, stereo gear, Ladies Omega, Seiko watches, carriage lamp, tins,  1970s leather belted jacket, kitchenalia, 1920s dresses, furs, Liberty, Hermes scarves, crocodile, mesh and other bags, linen, costume jewellery, auto trolley, corner cabinets, desks, chairs, Dexter rocker, toilet mirror, chests of drawers and other furniture.
Viewing Wed & Thurs 12 – 6pm
Auction starts 6pm Thurs.
Absentee and telephone bids accepted
Auction Catalogue 5 August 2021