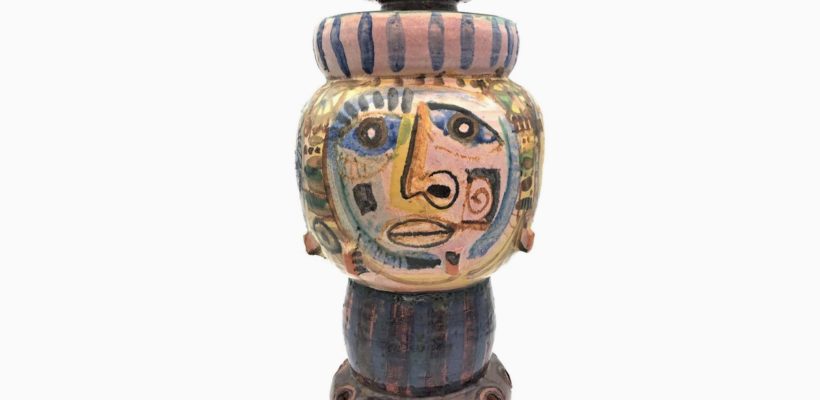 We are back into the swing of another year and are happy to be able to bring you a great first Australiana & Art auction to start 2021 off with.
We look forward to seeing you on Thursday night.
Covid rules now state that masks are to be worn.  We are still able to accommodate 70 people in the room.
Highlights for this auction are:
Pottery by:  Gus McLaren, AMB Boyd, John Percival, Klytie Pate, David Bromley, Remued, Jill Kealley, McHugh, Isobel, Martin Boyd, Wembley Ware, Bendigo, Harold Hughan, Ellis, Ted Secombe, Diana, Vic Greenaway and others.
Works of art by:  John Wolseley, John Colin Angus, Alan Russel Cowan, Roy Eder, Laurie Williams, Thelma Raeburn and aboriginal artists Vanessa Charles and Wirrigerie.
Decorative arts:  Silver Liberty & Co. caddy spoon, silver salver, silver embossed heart shaped trinket box, Giommet Russian enamel Art Nouveau dishes, art glass vase by Les Blakebrough, mid-century ceramics and glass, Mushroom lamps, green art glass beehive vase, Murano glass, Torquay ware, Cornish ware, Doulton, Wedgwood jasper ware, Gouda, Charlotte Rhead, Sylvac squirrel, Japanese silver vase, light shades, 1878 Schneeballen porcelain ball shaped vase and Willow ware.
Jewellery:  American Indian coyote teeth necklace and bracelet, Queen Victoria silver coin bracelet and earrings, 18ct gold cluster diamond ring, Jade and gold ring, gold fob watch and wristwatch, American Indian silver and turquoise ring, large Art Deco celluloid Egyptian revival button/dress ornament, insect brooches, Ned Kelly silver ring, gold and opal earrings plus more.
Collectables:  Boombox, Ned Kelly postcard, Avery scales, tins, Robertson's jam Golly brooch, transistor radios, camera, motoring ephemera, children's books and nursery ware, Victorian writing slope, lacquerware collar box with starched collars, carriage clock, corner cabinet, crystal cabinet, garden furniture, ladies vintage beaded dresses, hats, lingerie, gents bowler, bags and other accessories.
Please view the Auction Information for this week for our current policies to comply with COVID 19. We will be complying with all the guidelines and recommendations advised by the Government.
Please note Buyer's Premium is now charged at 24% + GST.
Auction Catalogue 7th January 2021-