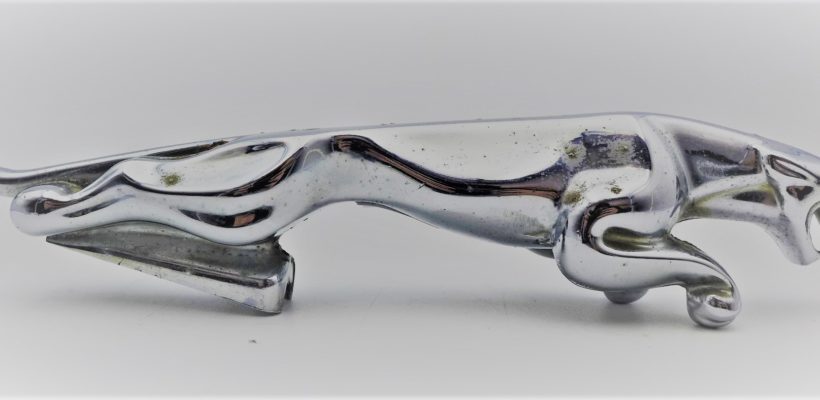 Some great prices achieved last night for a large variety of collectables and furniture.
There was a large crowd in the room with most items selling.  The sale rate was 92%.
The van has been out today and just arrived back with some great items so next week is
looking good.
Entries are welcome for our weekly auctions and our next special, Australiana & Decorative Arts,
being held on 6th May 2021.
Below are some of the results from the collectables auction held on 22 April
| | |
| --- | --- |
| Vintage Japanese  Mizuya-Dansu cabinet – 6 sliding doors & 5 drawers – Brass  handles – lovely wood grain. 107cm | 447 |
| Group lot Wedgwood Jasper ware – Lilac and Pale Blue on white inc vases, trinket dishes candlesticks pin trays, | 161 |
| Large Lot of Vintage Wooden Moulding , Plow & Carpenters Planes incl 1900s Brass Reinforced Plow Plane w Stamps , Moulding Planes etc | 335 |
| Vintage Chrome Jaguar Bonnet Mascot, earlier Leaping Jaguar model, marked to the base 10091 WBB, slight pitting on top, approx 20cm L | 130 |
| Vintage Japanese Open cabinet – sliding recessed doors to top and drawer to bottom – shelving open window to back. 86cm H | 322 |
| Vintage Plaster Art Deco Wall mask – lady holding gone tone mask with hands | 161 |
| Group gold jewellery – pair hoop earrings (af), 2 x odd hoop earrings – TW 9 4 grms | 310 |
| Very Large Green Glazed Ceramic Garden Pot – Ribbed & Beehive Shape 68cm H – 63cm D | 124 |
| 2 x ladies 18ct Rings – two tone band & other set with half circles small dias & sapphires – TW 7. 4 grms | 304 |
| 2 x Vintage mixed items incl Cased Cheroot Holder, Meerschaum with Amber Mouthpiece, unmarked, in its original case, approx 9cm L, and a Benzedrine Inhaler with bakelite lids on both ends, 8cm L. | 149 |
| Vintage Edwardian style Tallboy Chest – 10 drawers high, small rail to top, lockable latch down 1 side – approx 180cm H. | 286 |
| 1/18 Scale Model Diecast Car – 1068-1971 Holden Monaro HG GTS Coupe, metallic blue with black stripe (AutoArt) | 279 |
| French Mantel Clock Garniture, Porcelain with hand painted blue and ornate gilding – Pendulum stamped JBD (Jean-Baptiste Delettrez) with maker's mark on plate, with key and pendulum, ticking, repairs sighted on clock and garniture, Clock 20cm H | 273 |
| 2 x 1/18 Scale Model Diecast Ford Mustang Coupe Cars incl 350 GT in blue body with stripes (Universal Hobbies) , and a 1965 Mustang 289 in light blue body (Mira) | 124 |
| Vintage Ebonised Japanese Side Table – traditional design with Mother of Pearl inlaid Blossom design to top | 224 |
| 1897 Queen Victoria Half gold Sovereign (9167)  marked T B  with gold pendant mount – link marked 750 – TW 5.2 grms | 447 |
| Vintage bottle of Corio Special Extra Fine old Whisky | 211 |
| Large Group Lot of Fishing Rods , Tackle Boxes & Fishing Accessories incl Approx 11 x Fishing Rods , Vintage Tackle Boxes , Hooks , Line , Various Reels etc | 199 |
| Frank Mutsaers (1920-2005) Framed Oil painting – White Gums, Coldstream – Signed lower left, titled verso – 39.5×44.5cm | 161 |
| 2 x 1/18 Scale Model Diecast English Sports Cars – 1974 Triumph TR6 with hardtop, black body (ERTL), and a 1965 MGB GT Coupe, blue body (Universal Hobbies) | 130 |
| Vintage Japanese tall Hall table – traditional shape, Lovely wood grain. 89cm 13 | 199 |
| 1980s Gents Longines two tone watch – L5.649.3 – with box | 149 |
| 3 x 9ct gold rings – 2 x sculptured set with small dias & band – TW 7. 4 grms | 199 |
| 3 x 1/18 Scale Model Diecast Racing Cars – Maisto Mercedes CLK-GTR, Solido Austin Martin DBR9, Jada Nissan 2L – all with advertising | 161 |
| Vintage bottle of Milnes Specially Selected  Whisky | 199 |
| 2 x Boxes of Vintage Diecast Fuel Tankers in Various Sizes incl ESSO , Shell , Texaco , Liquid Nitrogen , Oil Tankers etc | 149 |
| Vintage Japanese light stained timer Bi-Fold Screen / Room Divider – low, approx 100cm H., inset with fine vertical cane, glass panels to top & bottom section with pierced design | 186 |
| Vintage cased c.1900 Quack Medicine Electric Therapy machine – I Heal generator, known as the Elixir of Life – made in London, with all Glass attachments & extras – working | 149 |
| Vintage Brass Bowl w Handles & Oriental Design Featuring Four Dragons to Center | 186 |
| Laurence D. Kermond (1918-1984) Framed Oil Painting – Afternoon Calm, Silt Jetties, Eagle Pt., near Bairnsdale – Signed lower left, further signed & titled verso – 35×73.5cm | 137 |
| Group 9ct gold jewellery – hoop earrings set with crystal, filigree heart bracelet lock & small cross pendant with turquoise – TW 7. 9 grms | 174 |
| Large Retro Mid Century Modern Japanese 3 Fold Screen / Room Divider – Black frame with lighter square shaped pierced plywood panels – approx 200cm H. | 149 |
| 1950s Yoshiya Japanese Wind-Up Tin Toy Robot w Clear Front to See Mechanism – Marks incl KO – Approx 22cm H | 174 |
| Large Group Lot of Tools & Hardware incl Makita Circular Saw , Large Leveller , Power Drill , Hardware etc | 161 |
| 18ct gold rounded filigree cross pendant set with small diamonds on gold chain – TW 8,6 grms | 447 |
| Group lot of copper and brass items, incl large copper footed bowl 46cm D, copper platter 28cm D, bowls, dishes, letter opener, and a collection of Italian made brass hangers incl Snake hook mounted on Adam & Eve back plate. | 149 |
| 2 x 1/18 Scale Model Diecast English Sports Cars, incl 1957-1973 LOTUS Super 7 with open wheels (Anson), and  1956 Austin Healy, blue and white body (ERTL) | 130 |
| | |