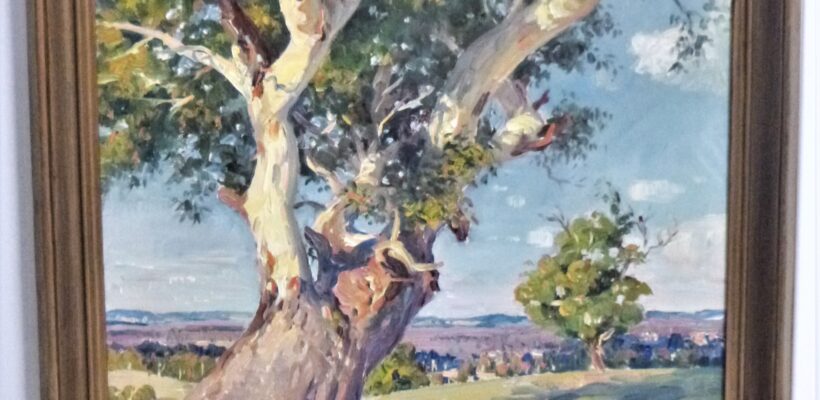 Bidding through the portal on our website.
There will not be bidding in our rooms.
Absentee bids via email will be accepted and must be submitted before 5pm Friday 18th August – info@thecollector.com.au.
Viewing is on Friday 18th August 10am to 6pm.
Auction starts 7pm Sunday 20 August 2023
Auction conditions of sale
Payment by credit card, eft or cash
Goods to be paid for prior to collection.
Late payment will incur a $10 fee.
24% buyer premium + GST + online  5% fee
1 % charge on Credit Card and Eftpos
Goods to be collected by 6pm Friday after the sale
We do not offer packing or shipping.
The Collector recommends the services of Pack & Send Caulfield.
Email: caulfield@packsend.com.au
The Collector does not accept liability for the acts or omissions of contracted third parties.
Please email us for further information – info@thecollector.com.au
| lot_no | Description |
| --- | --- |
| 1 | Cathleen Elizabeth Edkins (1922 - 2008) Gilt framed Oil Painting on Canvas - The Old Gum - Signed lower right - 49x41cm |
| 2 | Harold Septimus Power (1878-1951) Gilt framed Watercolour - Silvan Dam - Signed lower left, further signed & titled on Kalorama Galleries label verso - some foxing sighted - 34x43cm |
| 3 | Brian Malt (1940 - ) Gilt framed Oil Painting - Cool Veranda - Signed lower right, titled verso - 45x60cm |
| 4 | Student of Jan Hendrick Scheltema (1861-1941) Framed c1900 Oil Painting on Canvas - Horses Drinking, Flooded Stream - Unsigned - in Original Gilt frame repainted cream - 40x61cm |
| 5 | Herbert C Rose (189--1937) Gilt Framed Oil painting on Canvas - Australian Landscape - Signed lower right - 40x51cm |
| 6 | Alvah Earlington Rosebray (1880-1913) Framed Watercolour - Coastal scene with Windswept Trees & Crashing Wave - signed lower right - 23x29cm |
| 7 | Frank Mutsaers (1920-2005) Gilt framed Oil painting - Autumn Mist - Signed lower left, titled verso - 39x49cm |
| 8 | Charles Frederick Gerrard (1849-1904) Framed Oil painting - Lake scene with Rocky outcrop & Cliffs - Signed lower right - 19x34cm |
| 9 | Clement Fraser (Active c1970-80s) Framed Oil Painting - A Dry Summer - Signed lower right - 39x55cm |
| 10 | Neil Douglas (1911-2003) Framed Oil Painting on Canvas - The Bush - Signed lower left - 40x55cm |
| 11 | Artist Unknown Australian early 20th Century Unframed Watercolour - Upper Reaches of the Brisbane River, Evening - Unsigned, titled verso |
| 12 | Pasquale Giardino (1961 - ) Framed Pastel & Watercolour - Leda & The Swan - Signed upper right - 77x57cm |
| 13 | Douglas Stubbs (1927-2008) Framed Oil Painting - The Country House - Signed & dated 12 66, lower right - 53x74cm |
| 14 | Norman Lloyd (1897-1985) Gilt Framed Oil Painting on Canvas - Mountainous Landscape - Signed lower left - 45x56cm |
| 15 | Neil Douglas (1911-2003) Gilt Framed Oil Painting - Psychedelic Bush - Signed lower right, titled verso - 60x45cm |
| 16 | John Taylor (1963 - ) Framed Oil Painting on Canvas - Purple Interior - Signed & Titled verso - 40x30cm |
| 17 | Robert Holcombe (Australia, 1945) framed Oil Painting - Mungo Landscape - Signed & Dated '96, lower right, also signed & titled verso - image size 36x26cm HxW, frame size 68x48cm |
| 18 | Ian Chandler (Australia, 1942-2005) Framed Diptych Pencil Drawing - Sketch for Large Painting - Signed & Dated 67, lower right of bottom image - image sizes 15x15cm & 18x18cm HxW, Framed size 61x36cm |
| 19 | Jeffrey Bren (Active c1944-2007) Framed Watercolour - Balancing Act - Signed lower right - 525cm x 34cm |
| 20 | Ignacio Jose Marmol (1934-1994) Framed Pastel & Pencil - Afterain - signed lower right - further details verso on affixed labels - 28x38cm |
| 21 | Ignacio Jose Marmol (1934-1994) Framed Mixed media - Cave II - Signed & dated 4370, lower left, titled & affixed Johnstone Gallery QLD Label verso - 18x15cm |
| 22 | Lawrence Daws (1927 - ) Framed Colour Trial Print - Girl & Eerie Mountain - Signed, titled & inscribed 'Colour Trial', in pencil on margin - 26x20cm |
| 23 | Attributed to William (Bill) Rose (1929-1997) Framed Oil Painting - Still Life - unsigned, inscribed verso '49 Bill Rose' - 37x55cm |
| 24 | Framed Japanese woodblock print after Katsushika Hokusai - Seven-Mile Beach in Sagami Province - Character marks sighted upper left - 25x36cm |
| 25 | Artist Unknown Framed vintage Japanese Woodblock Print - The Bather - character marks sighted middle right - 43 5x29cm |
| 26 | Artist Unknown Framed Oriental Ink & Wash - Lady in Wrap Dress carrying large Bowl - Signed with character marks, lower left - 595x335cm |
| 27 | Gilt Framed 19th C KPM hand painted Porcelain panel - Portrait of Otto Von Bismarck - Signed with Artists Initials KW, middle right, impressed marks on panel verso - 23 5x16cm |
| 28 | Richard Simkin (1840-1926) Framed Watercolour - 47th Lancashire Regiment of Foot - Signed & dated '74, lower right, hand detailed Title to mount, original receipt verso from Parker gallery London 1985, ex Bruce Ruxton collection - 16 5 x 12 5cm |
| 29 | Artist Unknown Framed c1900 Etching - Battle scene with Artillery in foreground & Cavalry in background - signed in pencil on margin but illegible - some damage sighted - 20x26cm |
| 30 | Norman Ackroyd (1938 - ) Framed Etching and Aquatint - Interior of Oranmore 1st Galway - signed , dated 91, title and numbered in pencil on margin 17 x 21cm |
| 31 | T Bond (English, active c1900) Pair Gilt framed Watercolours - Country Road Scenes - both signed Bond, lower right & left - 50x21cm Each (Foxing sighted to each) |
| 32 | Norman Ackroyd (1938 - ) Framed Etching and Aquatint - Swinbrook Afternoon - signed , dated 90, title and numbered in pencil on margin 13 x 18cm |
| 33 | Bernard Sickert (1862-1932) Gilt Framed Pastel - Hay carting - Signed lower left - 28x43cm |
| 34 | Norman Ackroyd (1938 - ) Framed Etching and Aquatint - Daybreak at Crokey Hill - signed , dated 90, title and numbered in pencil on margin 15 x 19cm |
| 35 | Artist Unknown late 19th C Oil Painting on Canvas - Old Lady & Boy with Candle - signed with Monogram, lower left - 76x63cm |
| 36 | Sigurds Kalnins (1918-1956) Framed Linocut - The Hero - Signed with initials in image - frame size 48x41cm image size 26x21cm |
| 37 | Verner Linde (1895-1970) Framed Oil Painting - Winter Landscape - Signed lower right - 43x57cm |
| 38 | Emil Lindenfeld (1905-1986) Framed Oil painting on Canvas - Landscape with Pond - signed lower right - 59x70cm |
| 39 | Joel Elenberg (1948-1980) Large Framed Lithograph - Sculptors Garden - Signed & numbered ap, in Pencil on Margin - 100x71cm |
| 40 | Stephen May (1940 - ) Large Oil Painting on Canvas - Night Mood II - Signed & dated 1995, lower left, titled on label affixed verso - 111x121cm |
| 41 | Erika Huppert (Active c1960-80s) Large Framed Oil Painting on Board The Dream Signed lower right, further details on a fixed label verso - 90cm x 123cm |
| 42 | Megan Keating (Active c1990-2000s) Large Framed Cut Out Paper picture - Invasion 2001 - Signed & titled on affixed label verso - 95x65cm |
| 43 | Graciela Rodo Boulanger (1935 - ) Large Framed Colour Lithograph - The Bicycle Ride - Signed lower right, numbered lower left - 82x61cm |
| 44 | Salvador Dali (1904-1989) Framed Photolithograph & Etching - Les Dinner De Gala - signed in pencil lower right, numbered 166195 lower left - on handwoven paper - 48x57cm |
| 45 | Attributed David Bromley (1960 - ) large framed Oil Painting - Brushes - Unsigned, inscribed verso 'Gifted by David Bromley' - 90x59cm |
| 46 | David Edward Armfield (1923-2010) Large framed Oil Painting - Undergrowth - Signed lower right, titled & dated 1980 verso - 67x90cm |
| 47 | Artist Unknown Framed Modernist Oil painting under glass - Mirrored Nudes - Signed upper right but illegible - 87x54cm |
| 48 | Allan Wolf-Tasker (Active c1945-) Large Framed Oil Painting on Paper Tidal River (lower left) - Signed lower right - 67cm x 78cm - some water damage sighted lower |
| 49 | Graham Fransella (1950 - ) Large Framed Etching - Card Players - Signed , dated '82 & numbered, in Pencil on margin - 44x60cm |
| 50 | Robert Langley (1929 - ) Large framed Charcoal - Serenade - Signed upper left, titled verso - 49x67cm |
| 51 | John Leo Borrack (1933 - ) Framed Watercolour - The Clearing - Signed & dated '68, lower right - 53x73cm |
| 52 | John Leo Borrack (1933 - ) Gilt Framed Watercolour & Gouache - Morning Calm, Mallacoota - Signed & dated '80, lower right, titled verso - 35x52cm |
| 53 | Karlis Mednis (1910-1999) Framed Mixed media - Coastal Scene, Moored Boat - Signed & dated 1963, lower left - 49x62cm |
| 54 | William (Bill) Offord (1944 - ) Framed Watercolour - Things are Hard all Round - Signed, dated '78 & inscribed with title, lower right - 50x73cm |
| 55 | John Sterchele (1946 - ) Gilt Framed Watercolour - Port Phillip Coastal scene, possibly Table Rock & Sea Scout Jetty - Signed lower right - 36x53cm |
| 56 | William (Bill) Beavan (1944-2005) Framed Oil Painting - Opening in the Reeds - Signed & dated '74, lower right - 44x60cm |
| 57 | Frank Hilton Spears (1904-1985) Framed Oil Painting - The Rocks, Sydney - Signed lower right, further details on label affixed verso - 39x49cm |
| 58 | Sc Australian Art Reference Book - Fred Williams 'Infinite Horizons' - By Deborah Hart - Published by National Gallery of Victoria |
| 59 | Sc Australian Art Reference Book - Margaret Preston - By Deborah Edwards - Published by Art Gallery NSW 2005 |
| 60 | Sc Australian Art Reference Book - Grace Cossington Smith - By Deborah Hart - Published by National Gallery of Australia |
| 60.1 | Autographed hc Book - The Mind & Times of Reg Mombassa - 2009 |
| 61 | Hard Cover Australian Art Reference Book - Arthur Boyd - By Franz Philipp - Published by Thames and Hudson (London), with colour tipped in plates |
| 62 | 2 x Boyd Art Reference Books - incl 'The Murrumbeena Boyds' Exhibition Catalogue & Emma Minnie Boyd Sketchbook in slipcase |
| 63 | 3 x Australian Art Exhibition Catalogues - 2 x Clarice Beckett incl 'Politically Incorrect' & 'Arthur Streeton and the Australian Coast' |
| 64 | C2008 Volume - ABC 3D - by Marion Bataille, pub by Albin Michel 2008, Roaring Book Press |
| 65 | C1978 Volume - The Gates of Dawn - A Book made for the Young - by Christian Waller - pub by Gryphon Books 1978, 1st paperback edition of 1000 copies, with Dust Jacket, damage sighted to top left corner of DJ |
| 66 | Artist Unknown early 20th C Charcoal drawing in the style of Robert Prenzel - Portrait of an Aboriginal Man - Unsigned, damage sighted lower right - 42x28cm |
| 67 | Linda Williams (Active c1990s-2000s) Pair Framed Aboriginal Oil Paintings - Emu & Platypus - both signed lower left & right - 30x30cm each |
| 68 | Fabrianne Peterson Nampijinpa (1965 - ) Stretched Aboriginal Oil painting on Canvas - Untitled - all details verso in texta - Fabrianne Peterson, Papunya Tula Artists Pty Ltd FP9808225 - 61x55cm |
| 69 | David Barker (1941 - ) Framed Relief Etching - The Gate Keepers House 2 - Signed, dated 1967, titled & numbered, in Pencil on margin - 31x33cm |
| 70 | Andrew Muller (Working c198090's) Framed Mixed media - Heritage - Signed upper left, further signed & titled on Exhibition label affixed verso - image size 26x55cm HxW, frame size 495x76cm |
| 71 | Roger Middleton (20th C) Framed Etching - Flowers - Signed, titled & numbered in pencil on margin - 18x17cm |
| 72 | Bernard John Lawson (Australia, 1909-98) Framed Charcoal & Conte - Convict Tramway - Signed, titled, dated 67 & inscribed after Lt Col Mundy, in pencil on Margin - image size 24x33cm HxW, frame size 285x37cm |
| 73 | John W Roach (Australia, Working c193060's) Framed Watercolour - Australian Landscape - Signed lower right - image size 27x39cm HxW, frame size 375x485cm (some foxing sighted) |
| 74 | Artist Unknown Framed c1920s Ink Drawing - The Argyle Cut - Signed with Monogram & Titled, lower left - 17x11cm |
| 75 | James William Govett (1910-1998) Framed Oil Painting - Self Portrait - Signed middle right - 18 5x16 5cm |
| 76 | RCBRAGG (Possibly Robert Charles Bragg 1892 - 1915 WW1 Australian Soldier) Unframed Watercolour heightened with Body colour - Coastal Scene - Signed lower left - 23x30cm |
| 77 | AYoung (Active c193040s) Framed Watercolour - RAAF Catalina Flying Boat, Darwin 1944, possibly Doctor Gully - Signed, dated 1944 & inscribed Darwin, lower right - frame size 305x32cm HxW, image size 105x14cm |
| 78 | Robert Ingpen (1936 - ) Framed Watercolour - Big Lizzie, the largest Tractor built in Australia - signed & dated '80, lower right - 25x38cm |
| 79 | Max Boyd (1915-1988) Framed Oil painting - Sydney Lace - Signed lower right, titled lower left - 40x50cm |
| 80 | Kevin Charles (Pro) Hart (1928-2006) Framed Etching - Smoko - Unsigned, COA affixed verso signed Robert Littlewood20x15cm |
| 81 | John Flexmore (1911-2004) Gilt framed Watercolour - Late Light - Signed & dated '74, lower left - 27x37cm |
| 82 | Andrew Park (Active c1930-60s) Gilt Framed Watercolour & Gouache - A Grey Day - Signed lower left, titled in artists hand verso - 18x26cm |
| 83 | Kasey Sealy (1961 - ) Gilt Framed Oil painting - At days End by the Murray - Signed lower left, titled verso - 29x19cm |
| 84 | Travis Webber (Australia, 1900-68) Gilt Framed Watercolour - Poplars by the Lake - Signed lower right - Image size 18x31cm HxW, frame size 375x495cm |
| 85 | Timothy Schultz (1960 - ) Oil on Canvas laid on Board - Nymphe - Signed upper right, further signed, titled & dated 1995 verso - 54x41cm |
| 86 | Artist Unknown Framed Modernist Watercolour - The Pylon - Signed but illegible & dated 3-72, lower left - image size 39x30cm |
| 87 | Leigh Stewart (Active c1980s onwards) Framed Pencil Drawing - Untitled (Portrait of an Art Deco Lady) - Signed & dated '82, lower right, further details on Dempsters Gallery Label Verso - 35x30cm |
| 88 | John McQualter (1949 - ) Gilt framed Oil Painting - A Catch to the Outfield - Signed lower right, further signed & titled verso - 18x25cm |
| 89 | Edward J Berry (1932 - ) Framed Oil Painting - Boys Talk - Signed lower left, titled verso - 29x39cm |
| 90 | Allen Hicks (Active c1990s+) Gilt Framed Watercolour - River Landscape - Signed & dated '90, lower left - 23x38cm |
| 91 | V Badillo ( Mexican 20th C) Framed Oil Painting - Colourful Market scene - Signed lower right - frame size 34x64cm |
| 92 | Nik Dudukovic (Active c2000's) Framed Mixed Media - Pilot - Signed & titled lower right - 57x38cm |
| 93 | Artist Unknown Mounted c1900 Watercolour & Gouache - The RMS Ormuz - Unsigned, stuck on backing board & in poor condition - 39x61cm |
| 94 | Nils Josef (Joe) Jonsson (1890-1963) Gilt framed Monochrome Watercolour - Harbour scene with Man smoking in dinghy - Signed lower left - 19x29cm |
| 95 | Liz Sullivan (Active c198090s) Pair Framed Oil Paintings - Selby Landscapes - both signed , titled & dated '89 verso - 15x47cm each |
| 96 | June Scott Stevenson (Active c1930-50s) unframed watercolour - View of the Garden, Double Bay - Signed & dated Oct 24th 1956, lower right - 36x28cm |
| 97 | Majorie Woolcock (1898-1965) Framed Oil Painting - Abstract Landscape - Signed lower right - 55x37cm |
| 98 | Elaine Alys Haxton (1909-1999) Framed Watercolour - Birds - Signed & dated '69, lower left - 20x37cm |
| 99 | Anne Marie Hall (1945 - ) Framed Pencil - Nude Figure - Signed & dated '68, lower right - 60x50cm |
| 100 | Elaine Alys Haxton (1909-1999) Framed Watercolour - Pagoda - Signed lower right - 42x33cm |
| 101 | Hertha Kluge-Pott (Australia, 1963) Mixed media - Untitled - Signed Verso HKluge-Pott - Image size 745x745cm HxW |
| 102 | Dora Chapman (1911-1995) Framed Oil Painting - Head - Unsigned, inscribed on label verso 'Head' by Dora Cant given to me in 1956 - 30x25cm |
| 103 | Noela Jane Hjorth (1940-2016) Framed Etching - Motherhood - Signed, titled & numbered 430, in pencil on margin - 25x15cm |
| 104 | Yvonne Atkinson (1919-1999) Unframed Oil painting on Canvas laid on board - Portrait of a Girl - Signed upper left - 92x60cm (needing restoration) |
| 105 | Guelda Pyke (1905-1994) Framed Pencil & Watercolour - Seated Figure - |
| 105.1 | Leopoldine Mimovich (1920-2019) Bronze Sculpture - Girl holding Rabbit - signed to back 12cm |
| 106 | Patricia Giles (1932-2021) Framed Oil Painting under Glass - Birds & Nest - Signed lower left, further signed & titled verso - 35x48cm |