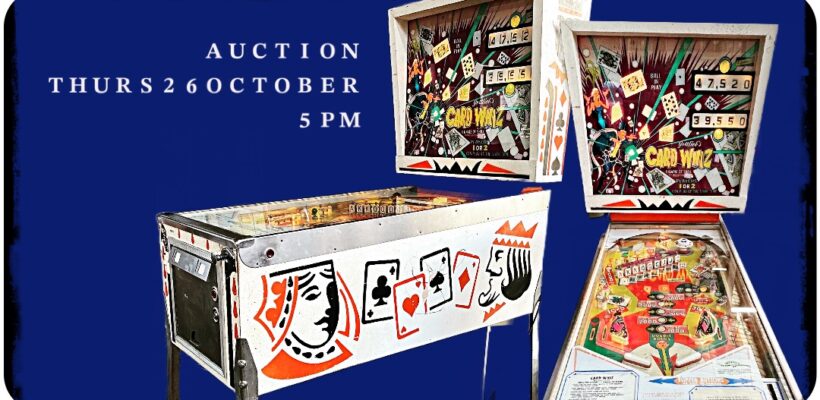 We have a bumper 400 lots of fab collectables in our first fortnightly auction.
This is a brief summary as too much good gear to mention.
Included :   A 1976 Gottlieb Card Whiz pinball machine,  gold and Australian solid opal jewellery, Kosta Boda and other Scandinavian art glass, MCM padded black and white bar, chairs, stool,  Bitossi cat,  Art Deco three tier Bakelite table and lamp, Silver fob chain, fob watches, early Marvel comics,  signed St. Kilda 1966 WEG poster, pair of 1940s heavy nautical spotlights,  vintage Star Wars figures, original cartoon movie cells,  Baccarat crystal double candlestick, 1950s Tasmanian Marineer shell & crystal bead necklace,  vintage typewriters,  1930s ceramics, vinyl records, framed Stuart Spence archival print of Brett Whiteley,  Una Deerbon, Wm Ricketts and other Australian pottery,  oak glazed bookcase, dolls, 1950s+ ladies clothing, Sterling cocktail stirrer, Danish 1931 silver and Carnelian letter opener and matching seal, guilloche enamel coffee spoons,  French ormalou and glass jewellery casket, silver and costume jewellery and flying ducks.
Due to a tech issue we cannot show preview photos below so click on the link above.
Entries are welcome for upcoming auctions.
Good can be dropped off  Monday to Friday from 10 – 6pm
25 Melbourne Street, Murrumbeena, 3163
Photos for appraisal can also be emailed to info@thecollector.com.au
Past auction Results can be seen here
Keep up to date with upcoming auctions by subscribing to our Newsletter or check out our Facebook page!