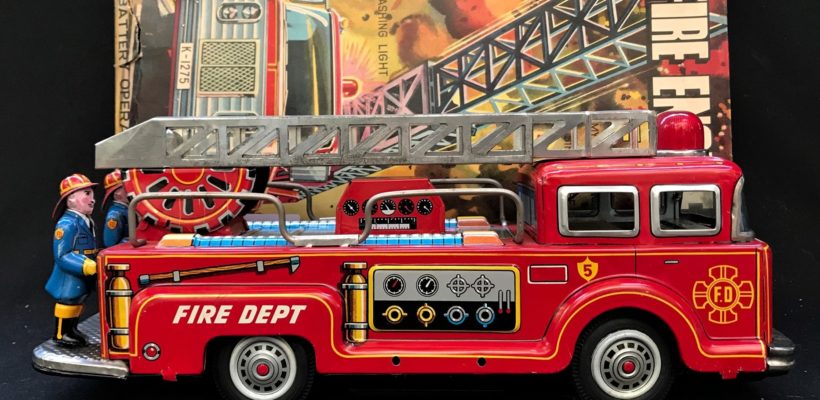 We thought we were in Hamley's Toy Shop in the 1950s this week as the room is full of amazing tin toys, die cast vehicles, dolls, Lego, comics, books, games and ephemera, all ready to go under the hammer during our Toys, Books and Ephemera auctions Thursday night.
Highlights of the auction include –
Vintage tin toys – Branko Acrobat, Lehmann horse and cart, clockwork ferris wheel, fire engine, planes, robots, boats, trains, tanks, police cars, money banks, crocodile, etc
Other vehicles incl; Matchbox, Dinky, Tonka, Models of Yesteryear, Thunderbirds, Holden, Ertl Tractors and trucks, Military trucks, tanks, and canons, cable car and tram, etc
Heaps of LEGO – Friends, Ninjago, Nexo, Duplo, Spaceman, Scooby-Doo, Cars, Elves, City Kingdom, light-up shop displays and banners, etc
Collectable books and ephemera – Art and Australia magazines, The Greyfriars –Holiday Annual, signed I, The Aboriginal, Telegraph Code book, 1880's portrait albums, Louis Wain illustrated Merry Times, Cole's books, c1910 Haley's Comet scrap book, Arrival of the First Fleet Stereoviews, Soap advertising, etc
Comics: Phantom, Astro Comics, Casper, Hot Stuff, Captain Tornado, Dr. Strange, Joe Palooka, Dennis the Menace, Mighty Samson, The Punisher, The Avengers and heaps more.
Art incl; Harald Noritis, Charley Garry, Robin Hill, Paul Tyquin, Robin Metcalfe, Duncan Roughsea, etc
Other items include – Victorian scraps, vintage dolls – black Topsy, German Bisque, Pedigree, Cabbage Patch, celluloid, radios, board games, sculptures, Gollies, shop displays, Pound Puppies, 1930's Bonzo china cups, playing cards, Olympics, football records and merchandise, tins, pottery, furniture, etc
The auction starts at 6 pm on Thursday evening and absentee bids need to be in by 5pm.
Auction Catalogue 4th April 2019
Auction Catalogue 4th  April_LARGEFONT