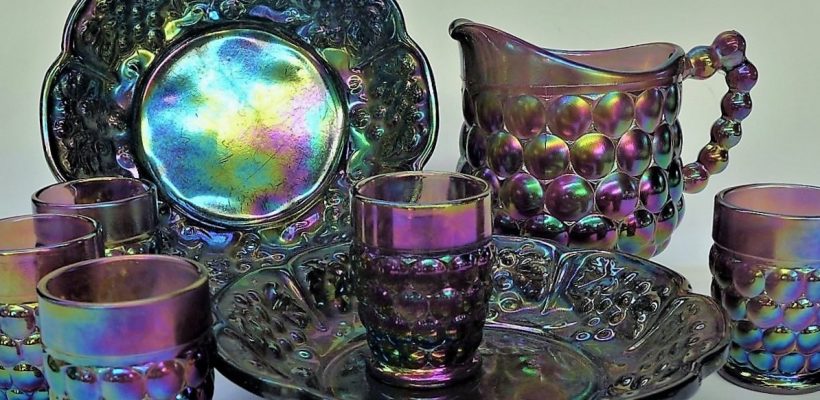 We have been super busy sorting out this week's weekly auction.
There is a large collection of Carnival Glass, as well as jewellery, china, Australian and English pottery, heaps of music related promotional items, ephemera, cassettes, vinyl records, furniture and an impressive clock garniture all going under the hammer.
Highlights include;
Carnival Glass – Fenton, Imperial Glass, Indiana, Northwood – Marigold and iridescent. Amberina glass, Moser, enamel Victorian, Scandinavian, satin and vaseline.
China includes, Art Deco, Crown Devon enamel, Victorian, Blush Ware, Burleigh, Beswick, Sylvac, Shafer Vater, Blue/ White Willow Pagoda, Staffordshire dogs, etc.
Pieces of Australian pottery include Remued, Hoff, Pates, Newtone, Domestic Studio and Décor.
Jewellery includes, gold, silver, marcasite, rhinestone, Victorian brooch with hand painted miniature portrait, Art Deco, 1950s lorgnettes, Micky Mouse watches, Sterling Silver potpourri stand and costume jewellery.
Pieces of furniture include vintage cedar chairs, a large dresser, a vintage gramophone player in cabinet and 1970s arm chairs
There is great collection of music related items including Rock n Roll badges, promotional ephemera, heaps of CDs, vinyl records, cassettes, etc
Other items include, novelty telephone, Art Deco lighting, DVDs, Kid's books, Scratch built boat, Retro large Plaster Ware Oriental wall plaques, a Victorian wool work floral arrangement under a glass dome, vintage Olympic pins, glass Magic Lantern Slides, etc
The auction starts at 6 pm on Thursday evening and absentee bids need to be in by 5pm.
Viewing 10am – 6pm Wed. & Thurs. 12 – 6pm auction start
25 Melbourne Street, Murrumbeena, 3163
03 95687811/22
Auction Catalogue 13th December 2018
Auction Catalogue 13 December_LARGEFONT