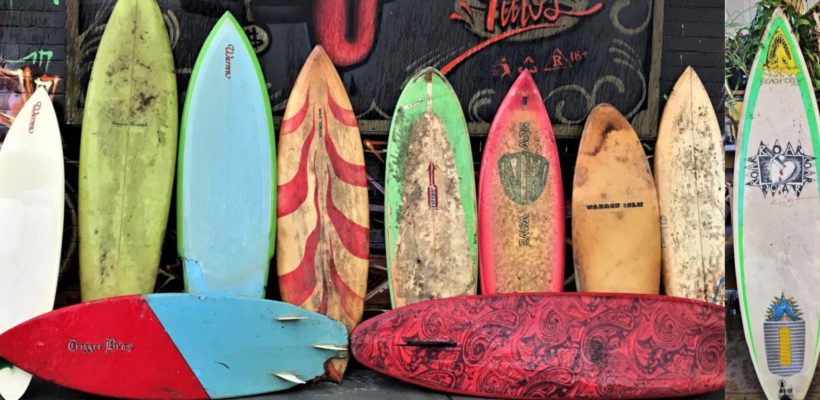 Welcome back, Happy New Year, Merry Christmas and Happy Birthday to anyone we've missed.
A great start to the year with Australiana and Decorative Arts showcasing the auction.
'Cowabunga dude – Surfs Up' with an amazing collection of surfboards on offer this week as well as pottery, glass, art and furniture.
Collectables and antiques being auctioned on Thursday night include:
Surfboards incl; Warren Partington, Trigger Brothers, Brothers Nielson, Rip Curl, Islantis, Channel Islands, Wave Torque, Strapper, Bombora, Bobbanarring, Barlin, Beach Crew, etc
Australian pottery – Remued, Diana Waltzing jug, Melrose, Newtone, Dyson, Lucy & Hatton Beck, Hoffman, Nicolas Heiderich, Décor, Barsony lamps, Fowler, McLaren, Brownie Downing, etc
Collection of art includes; Pro Hart, Anne Hall, Carlyle Jackson, George Hyde, Ann James, Norma Bull, Lionel Hinwood, Arnold Shore, Billy Stockman, Michael Meszaros, Raymond Horsfield, Frank Mincone plus others.
Glass, China and other pottery incl; Bretby, Amphora, Pratt Ware, Staffordshire, Carltonware, Tunstall, Marigold, Royal Winton, Anthony Genet, Rialto Ware, Kerin Hammar and Sommerso.
Pieces of furniture include a Featherston rocking and Rambler chairs, Oriental cabinets, candy Outdoor bench, Edwardian stool, Victorian chiffonier, Art Deco telephone table, spindleback chair, etc
Musical Instruments – Casio Celviano electric piano, Yamaha keyboard, Ranger & Onyx electric guitars, bongo drums, etc
Various lighting includes; Martinelli style 'Cobra' lamps, Barsony lamps, brass standard and table lamps, Planet industrial and floor lamps, Elinca lights, etc
Military items incl; WW1 leather belt, WW1 & WW2 medals, dogtags, ribbons, 1967ANZAC medal p.o.w WW1 Turkish beaded snake, photos, etc
Other items include; c.1950's Philips green Bakelite radio, Nestle glass counter jars, clocks, silverware, stamps, playing cards, records, toys, audio gear, watches and jewellery, band gig t-shirts and other vintage clothing.
The auction starts at 6 pm on Thursday evening and absentee bids need to be in by 5pm.
Viewing 10am – 6pm Wed. & Thurs. 12 – 6pm auction start
25 Melbourne Street, Murrumbeena, 3163
03 95687811/22
Auction Catalogue 10th January 2019