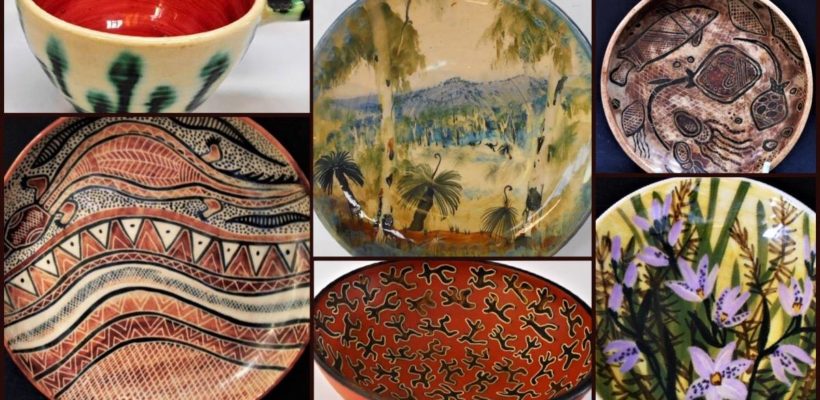 Australian pottery collectors were out in full force last night.  Some might say they were slightly potty as high prices were paid due to the spirited bidding.
We are enjoying working on next week's Toys, Books and Ephemera auction which is shaping up to be another boomer.
It's not too late to submit entries.  You have until 2pm on Tuesday April 2nd to drop off items.
Some highlights are listed below:
| | |
| --- | --- |
| Description | Price |
| Vintage Australian Pottery AMB Boyd and John Perceval wall plate with hand painted decoration in the manner of Neil Douglas – approx. 22.5cm diameter, incised to back (from the collection of Marvin Hurnall) | 2732 |
| Pair of Czech glass textured iridescent blue glass vases with pinched rim Loetz / Kralik | 118 |
| Carl Cooper Australian Pottery earthenware plate with painted Lizard decoration – marked to base Carl Cooper 1948 Australia – 19cm D | 596 |
| Ladies 14ct rose gold dress ring set with approx. 5 ct. Shocking pink oval cut Ruby – TW 5. 4 grms – marked 583 with Russian markings | 373 |
| Carl Cooper Australian Pottery earthenware plate – Painted figures dots and snakes – Signed to base Carl Cooper Australia – 11cm D | 224 |
| Modern Copper and brass diving helmet – 45cms H | 373 |
| Pair of small bronze Egyptian bronze statues 'Sphinx' – 8cm | 124 |
| Carl Cooper Australian Pottery earthenware bowl with sgraffito figures and copper oxide coloring, signed to base and dated 1961 – 14cm D | 373 |
| c1900 paraffin Railway lamp with thick glass lens | 87 |
| Carl Cooper Australian Pottery earthenware painted with hand painted and Sgraffito Lizard decoration – Marked to base Carl Cooper 1952 Australia – 16cm D | 335 |
| 1960s ladies Dunklings Rivana cocktail watch with 9ct gold case | 99 |
| Remued Australian pottery miniature vase with applied gum leaf – blue glaze – 5cm H | 149 |
| Carl Cooper Australian Pottery earthenware plate with Sgraffito Sting Ray and jellyfish decoration Marked to base Carl Cooper 1947 – 14cm diameter | 298 |
| c1900 Wedgwood Black Jasper Cheese dome with branch handle – 21cm H | 261 |
| Vintage First day cover stamp album, Stamp catalogues and loose Australian stamps | 106 |
| Vintage Australian Pottery – Charles Drew ceramic dish – approx d. 23.5cm | 236 |
| Large vintage wooden sign for THE TIVOLI Theatre – The Tivoli Presents – approx 1.5 Meters Long | 186 |
| Pair of Vintage stylised Royal Dux Czech porcelain Deer figurines – 24cm wide | 93 |
| C1900 Hardwood Train rolling timetable | 186 |
| Small CARL COOPER Australian pottery dish with painted Aboriginal motif of crossed shield, incised signature to base Cooper – 9cm D | 161 |
| Carl Cooper Australian pottery dish with painted and sgraffito Aboriginal motifs of Turtle and fish – approx. 9.5cm diam signed to base | 149 |
| Group of vintage Coles swap cards – Melbourne Olympics, Dogs plus nationalities | 137 |
| Carl Cooper Australian pottery bowl with painted and sgraffito Aboriginal motifs of Turtles – approx. 13cm diam. a/f, signed and dated 1950 to base | 124 |